ART IN VOYAGE – FIRST ENGAGEMENT-BASED TRAVEL AGENCY LOYALTY PROGRAM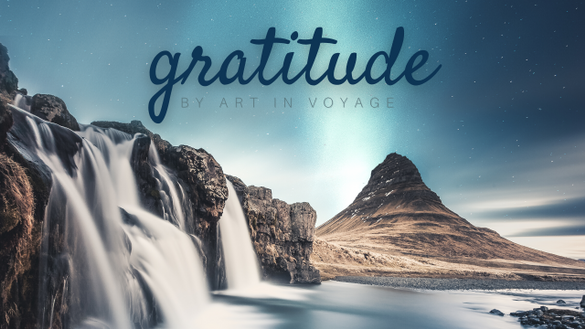 Art In Voyage (AIV), the team of Florida-based travel experts, has today announced the launch of one of the first-ever customer loyalty programs offered by a travel company, outside of airlines or hotel chains. The 3-tiered 'Gratitude Loyalty Program' by AIV offers guests as well as travel partners the opportunity to earn rewards and save on future bookings.
Aligned with the company's mission to take guests BEYOND TRAVEL, the evolved loyalty program is engagement-based, offering points for several types of interactions with the company, from participating in surveys to successful referrals and of course, purchases.
Some of the creative benefits offered by Gratitude include:
Option to use hotel loyalty points (Marriott, Hilton, etc.) to offset some of the costs of AIV's curated journeys by allowing guests to stay at their favorite properties
Option to convert Gratitude points into air miles
Complimentary home airport transfers
Complimentary meet and greet at international airports
Complimentary upgrades
Complimentary nights
Concierge services 24/7
Complimentary pre-departure travel insurance, including coverage for COVID-19
Reduced deposits and reduced final payment deadlines
In the coming months, Art In Voyage will start allowing its Gratitude members to spend points at their favorite local businesses, thanks to an extensive partnership network.
This program is designed with the understanding that affluent travelers are seeking more from the travel companies they decide to invest time and money with and to demonstrate AIV's commitment to service excellence and loyalty.
Mikael Audebert, CEO and Founder of AIV, said:
"The choice of the name "Gratitude" for our program was an easy one to make. The quality of being thankful and the readiness to show appreciation for and to return kindness is entrenched in Art in Voyage's culture, a company whose growth is mostly organic and powered by its loyal and returning guests".
For more information about the Gratitude Loyalty Program, contact Art In Voyage at +1 631 440 3050, gratitude@artinvoyage.com, or visit https://artinvoyage.com/gratitude/
Art In Voyage is a Boutique Travel Company established in 2011 as an alternative for travelers not satisfied with the mass-produced, conventional tours and trips offered by most travel agencies. Art In Voyage specializes in bespoke, exclusive journey design, as well as curated travel packages for small groups of like-minded tra
velers.
Follow WebBandStand for everything that is cool that matters.