Black Diamond's Guide to the Best Global Music Festivals to Look Forward to in 2021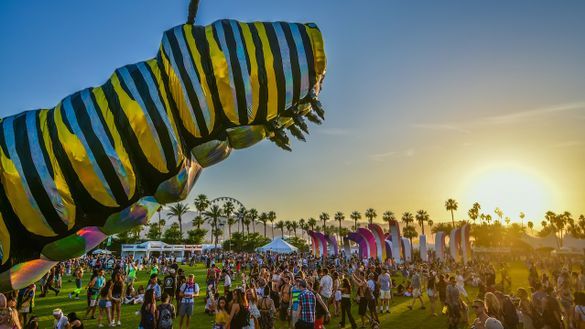 ---
With Glastonbury highlights of previous years iconic headliners due to air this weekend and the majority of annual music events postponed in 2020, organisers have already confirmed new dates for next year to scratch the festival itch. Spanning several continents and genres, there's something for every musical taste, from country in the deserts of California and jazz in the streets of Pittsburgh, to rock in the Japanese mountains and bluegrass in the Colorado sunshine. Look long-haul in 2021 and try a new festival.
USA
Stagecoach, 23-25 April 2021
Empire Polo Fields – Indio, Greater Palm Springs, California
The Stagecoach 2021 Festival is one of the biggest country music festivals in the world. Taking place at the Empire Polo Club in Indio, one of Greater Palm Springs nine cities, Stagecoach is at the top of all country music fan's bucket list and presents a lineup of contemporary and classic artists, not just in country but also folk, bluegrass and roots rock. Consistently drawing the biggest names in the business, previous years have included superstar headliners Keith Urban and Shania Twain. www.visitgreaterpalmsprings.com
Coachella, April 2021 
Empire Polo Fields – Indio, Greater Palm Springs, California 
One, if not, thee most recognised music festival throughout the world, the Coachella Valley Music and Arts Festival is held at the Empire Polo Club in Indio, Greater Palm Springs and not Coachella as often thought. Although not officially confirmed, it is thought that the festival will take place across the usual weekends in April and draw in huge celebrity crowds and international artists. 2020 headliners included Frank Ocean, Lana Del Ray and Calvin Harris, however next year's line-up is yet to be announced. www.visitgreaterpalmsprings.com
Telluride Bluegrass Festival, May 2021
Telluride, Colorado
The 47th annual Telluride Bluegrass Festival will return for four unforgettable days of music, hiking and laughter. Fans of bluegrass music will see a number of incredible artists perform beneath the Colorado sunshine. There are also workshops, circus performances and music contests to enjoy. www.colorado.com
Pittsburgh Jazz Fest, June 2021
Pittsburgh, Pennsylvania
Transforming downtown Pttsburgh into one big jazz club, complete with jam sessions, mini concerts lining the streets and delicious street food and drink, this free music festival is not to be missed. Going online for the first time in 10 years, the Pittsburgh International Jazz Festival will return to the streets in 2021, featuring legendary jazz musicians from around the world. www.visitpittsburgh.com
Baroque Music Festival, June 2021
Corona del Mar, Newport Beach, California
Baroque Music Festival is a yearly summer festival, directed by Elizabeth Blumenstock since 2011. The festival aims to present the astounding wealth and diversity of the Baroque era through a season of five concerts performed by the finest musicians in the historically informed Baroque field. Enjoy the talents of extraordinary musicians playing Baroque instruments, and of singers who are sensitive to historical styles, performing in intimate venues in Corona del Mar and Newport Beach. www.visitnewportbeach.com
Watershed Festival, 31 July – 1 August 2021
George, Washington
Taking place in the spectacular Gorge Amphitheatre, offering incredible acoustics in addition to views of the Columbia River Gorge, Watershed Festival is the biggest country music festival in the Pacific Northwest. There will be music from renowned country artists, including Tim McGraw, Dierks Bentley and Thomas Rhett, as well as outdoor yoga classes, body painting and fairground rides. www.visitseattle.org
Pickathon, August 2021
Portland, Oregon
The Pickathon Music Festival is an annual three day event located just outside of Portland in Happy Valley on the Pendarvis Farm. The small, independent, community-driven festival has been live since 1999 and attracts a range of indie, rock artists, as well as rap and bluegrass troupes geared towards discovering new music. There are camping facilities and the festival is proud to have several sustainable measures in place, such as providing eco-friendly transport and the first large outdoor music festival in the U.S. to eliminate single-use plates, cups and utensils through a ticket system. www.travelportland.com
KAABOO Del Mar, September 2021
San Diego, California 
San Diego's largest music, comedy, culinary and art festival, KAABOO offers festival goers an exciting line-up of A-list music artists, signature craft beer and a view of the Pacific Ocean. Debuting in 2015, the festival pushed the boundaries of "traditional" festivals and put an emphasis on art and dining inviting big named artists and restaurateurs to take part in the weekend. The music does still take centre stage, however, The KAABOO grounds also feature a smaller stage with its own pool and sandy beach (including cabanas and chaise lounges), an indoor comedy club, art exhibition and indoor spa. www.sandiego.org
Wonderfront, November 2021
San Diego, California 
Where the city meets the sea, Wonderfront Music and Arts Festival offers visitors seven stages of live music over three days, combined with delicious Cali-Baja cuisine and the city's most respected artists all on the waterfront. From Broadway Pier to the Embarcadero Parks, the festival offers diverse attractions including yacht parties, water sports, art installations, after-parties, a craft beer village and plenty of local flavors. www.sandiego.org
Mammoth Festival of Beers & Bluesapalooza – August 2021
Mammoth Lakes, California 
Head to California's High Sierra 5th – 8th August, 2021, to experience stunning scenery, craft beer and the best of live music! With over 85+ craft breweries/cideries pouring beers and ciders from around the U.S., the annual Mammoth Festival of Beers & Bluesapalooza is the best craft beer and music festival in the West! The four-day event features more than 20 bands on two stages performing blues, rock, R&B and soul. This is Mammoth's biggest party of the summer and will once again be held at The Woods at Mammoth Lakes.  Be sure to check out this great video to see what it's all about! www.visitmammoth.com
MTV Snowglobe Music Festival – December 2020
South Lake Tahoe, California
Combine top performers, top skiing and snowboarding , plus New Year's Eve and you know you are in for a one-of-a-kind happening at MTV's Snowglobe Music Festival. This South Lake Tahoe outdoor blow out is an annual three-day celebration all about mountains and music. Chart-topping acts—Skrillex, Zedd, Snoop Dogg etc.—keep things cranked up loud at the park-like and often snow-covered grounds. Between performances, watch skiers and snowboarders perform during live demonstrations. Details for December's line-up and dates are shortly to be announced! www.tahoesouth.com
The Sunset Strip musical history
West Hollywood, California
West Hollywood embodies the heart, soul, and thrill of music like no other city and it is home to some of the world's most legendary concert venues, from the Troubadour to The Roxy Theatre, to the Whisky a Go Go and The Viper Room. These venues have hallowed histories, hosting countless iconic acts over the decades and for many new bands, to perform on the same stage as the likes of The Ramones and Bob Marley is to follow in the footsteps of giants. While the early years of the Strip were dominated by rock 'n' roll, contemporary audiences can find a wide variety of genres on a given night on the Strip. As for somewhere to stay, check out The Sunset Marquis which houses recording studios and the Morrison Hotel Art Gallery, one of the city's best showcases of rock photography, which changes every month, or the Andaz West Hollywood, which was formerly the Hyatt House and went by the nickname the "Riot House" for all the rock stars who partied there. www.visitwesthollywood.com
Aftershock – October 2021
Sacramento, California 
California's biggest rock festival storms into California's state capital, Sacramento, with a powerful lineup of rock and metal favourites. With alumni like Megadeth, Korn, Ozzy Osbourne, Nine Inch Nails, Godsmack, Alice in Chains, and System of a Down, Aftershock is the place to see genre legends in the western United States along with up-and-comers to the scene. 2020 is already sold out, but book early for next year and reserve a room at the Kimpton Sawyer Hotel and laze by the pool afterwards – you'll need it. www.visitsacramento.com
THE ISLANDS OF TAHITI
To'are Concerts, August 2021
Meaning new wave, To'are is a celebration of local musical talent, giving young musicians throughout The Islands of Tahiti the chance to kickstart their careers by providing a platform for them to display their talent. Held three times a year, these concerts showcase the best up-and-coming talent in French Polynesia. https://tahititourisme.uk/en-gb/
JAPAN
Summer Sonic, August 2021
Osaka
Pop and rock from the East meet their Western counterparts at this bayside extravaganza. Summer Sonic in Osaka curates the best of both worlds, booking a range of rock, pop and EDM artists from across Japan and the world. Past appearances include the likes of Radiohead, Foo Fighters and Red Hot Chili Peppers, making Osaka's Summer Sonic a must for popular music fans. japan.travel/en/uk
Fuji Rock Festival, August 2021
Niigata
With the mountains and lakes of Niigata Prefecture as its backdrop, Japan's Fuji Rock Festival is an unmissable event. The three-day phenomenon is packed with performances, rope-way tours of the landscape and food from around the world. Fuji Rock showcases not only Japan's best musicians but also top artists from all over, with past line-ups featuring big names such as Kendrick Lamar, SIA, and The Cure. japan.travel/en/uk
Jozenji Street Jazz Festival, September 2021
Miyagi
More than just jazz, the Jozenji Street Jazz Festival is a two-day festival of all musical genres. Bounce to the rhythms of 750 bands sharing 90 stages throughout the entire city. Held on the second full weekend in September, the three-decade-old festival attracts nearly 700,000 visitors over two days. Follow the music from stage to stage and you'll find that pedestrian-friendly Sendai never feels too crowded because stages are spread out around the city center. japan.travel/en/uk
Follow WebBandStand for everything that is cool that matters.