Buenos Aires: All Year Round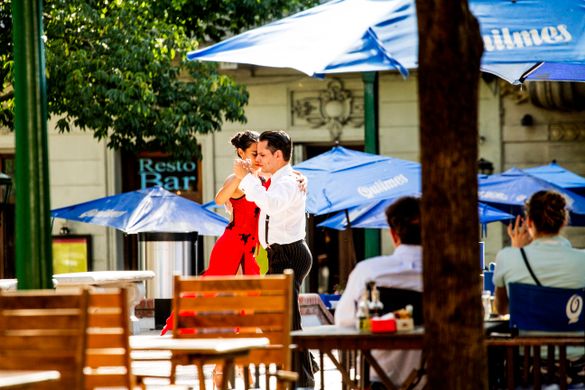 ---
With a diverse range of events taking place throughout the year, Buenos Aires is a city that can be visited and enjoyed year-round. From art and literature to barbecues and mate (traditional hot drink), here's the pick of the best for 2020.
arte BA – 16-19 April 2020
From street art to world-renowned galleries, art is everywhere in Buenos Aires and the city is host to Latin America's most important contemporary art fair. Now in its 28th year, the annual fair has become an important meeting place for artists, collectors, gallery owners, curators and critics, attracting more than 100,000 visitors and 500 art exhibitors. There are several free events that take place providing a chance to meet important figures on the art scene.
To find out more visit here.
Buenos Aires International Book Fair – April 30 – May 18 2020
With more than one million readers from across Latin America visiting the book fair, this 20-day festival is the most important annual literary event in the Spanish-speaking world. Each April, more than one million readers from all over Latin America visit the premises and take part in the thousand-plus literary events we organise.
To find out more visit here.
Masticar Food Festival – August 2020
Feria Masticar is a four-day food extravaganza bringing together some of Buenos Aires' most highly acclaimed chefs and restaurants. As well as classes and seminars, eminent restauranteurs and chefs set up shop at the fair, offering samples of some of their favourite dishes at more affordable prices. Visitors can sample regional produce including wine, craft ale and dishes from across the country.
To find out more visit here.
International Tango Festival and World Cup – August
No visit to Buenos Aires would be complete without experiencing the spectacle that is tango. Every August, thousands of dancers and fans of tango music converge on Buenos Aires ­– the dance's birthplace – for a two-week celebration of free concerts, classes and milongas. Hear exciting new orchestras and established artists, learn some steps in the classes and see some of the world's most talented dancers in action. Pop-up shops from some of the city's best tango shoe and clothing specialists open at the events for those who forget to pack the appropriate attire.
The annual event also includes the Mundial de Tango, the most important international tango championship, which sees hundreds of dancers from all over the world compete for a place in the finals at Luna Park stadium. The mundial has two categories: traditional tango salon (improvised – dancers do not know what music they will have to dance to), and cenario (choreographed stage tango).
To find out more visit here.
Federal Barbecue Championship – September 2020
Argentina and steak go hand in hand and the official Campeonato Federal de Asado – federal barbecue league – celebrates this tradition and defining element of Argentine identity. The country's 23 provinces and Buenos Aires – the federal capital – compete in the great Argentine grill off, each represented by a team of two barbecue chefs who aim to impress two demanding judging panels, one featuring local gastronomic heavyweights and another featuring politicians.
With over 24 barbecue grills lining the street, each team prepare several cuts of beef: vacío, asado de tira ancha, colita de cuadril, and chorizo, using their own tools and charcoal, wood or both. Bread and condiments are provided. There are activities for all the family at the event and for non-meat eaters, there are other food stands from across the city's different communities serving up their own national foods.
To find out more visit here.
Ciudad Emergente festival – October 2020
Ciudad Emergente is a festival of new music presenting some of the best of the city's up-and-coming young artists, covering everything from alternative rock and electronic music to photography, film, stand-up comedy, poetry, and dance. Taking place around the Usina del Arte in La Boca, it's a chance to discover new voices and new experiences, including the opportunity to see artists selected to appear through the a #ExperienciaEmergente competition.
For families, the festival also includes the Emergentito programme with activities for young children. Entry to all events and activities are free.
To find out more visit here.
LGBT Pride – November 2020
The most gay-friendly city in Latin America according to the British LGBT awards, Buenos Aires hosts its biggest celebration of diversity in November, with a week of LGBT festivities culminating in the annual pride parade. Buenos Aires' first LGBT march took place in 1992, led by Carlos Jáuregui and attracting just 300 people with many wearing masks to conceal their identity.
More than 25 years later, Buenos Aires has become the LGBT destination of choice in Latin America and the annual Orgullo (pride) parade attracts more than 100,000 people from all over the world. This is usually held at the start of November to commemorate the founding of Nuestro Mundo, Argentina's first gay association, which was founded in 1967. The city's Queer Tango Festival also takes place around the same time.
To find out more visit here.
Night of the bookstores – November 2020
The sun goes down and the many bookstores of Avenida Corrientes spill out into the street for the annual Noche de las Librerías. According to the World Cities Culture Forum, Buenos Aires has one of the world's highest number of bookshops per capita and for one night every November, books take over one of the city's most famous streets. The avenue is closed to traffic and given over to literature and readers avidly searching for rare editions and new releases.
As well as books, there is live music, talks, presentations, workshops, recitals and activities for children to enjoy.
To find out more visit here.
Matear 2020 – November 2020
Mate – pronounced mah-tay ­– is Argentina's national infusion and an institution. ­Drunk out of a small gourd-like bowl, with a metal straw for stirring the yerba, the green leaves used to make it, Argentinians take it everywhere with them. Since 2017 this festival has taken place over two days, for locals and visitors alike to learn more about the infusion and to buy lesser known varieties direct from producers, discover other uses of the plant, attend talks and workshops and enjoy food and cocktails.
To find out more visit here.
Argentina Open Polo Tournament – November 2020
Boasting the highest number of ten-goal players in the sport, Argentina has long been home to the best polo in the world, and the annual Argentine Open in Buenos Aires is considered the most important interclub championship there is.
The spectacular contest takes place in Buenos Aires every spring, between November and December, at the Argentine Polo Ground in Palermo – a venue known as "the cathedral of polo".
To find out more visit here.
National Tango Day – December 11
Every December 11 Argentina celebrates National Tango Day, the emblematic and passionate music and dance created in Buenos Aires and declared world heritage by UNESCO in 2009. The date also marks the birthday of two of the genre's biggest icons, the singer-songwriter Carlos Gardel and the composer and orchestra leader Julio de Caro. The following Saturday after the date, the city joins in one huge free party on the Avenida de Mayo with the Gran Milonga Nacional – a free event that sees the road closed to traffic and transformed into a huge dancefloor for thousands of dancers. There are stages set up for a milonga – a social dance event – accompanied by live orchestra performances, dance shows and more.
To find out more visit here.
For more information about the upcoming events in Buenos Aires, please visit: https://turismo.buenosaires.gob.ar/en/agrupador-noticias/festivals-and-events
About the Autonomous City of Buenos Aires
Argentina's capital and most populous city, Buenos Aires, is located on the western shore of the Río de la Plata estuary, on the south-eastern coast of South America. The city is neither part of Buenos Aires Province nor the province's capital; rather, it is an autonomous district. Buenos Aires is a top tourist destination that offers a unique blend of European elegance and Latin American passion. Famous as the birthplace of tango, the city is also home to world-class opera, theatre and art, well-preserved European-style architecture, native traditions, and to restaurants that overflow with wine from Mendoza and cuts of beef fresh from the Pampas. Ranked by The Economist as 2017's best Latin American city to live in, Buenos Aires is made up of small, highly individualized neighbourhoods, each with its own characteristic colours and forms. The destination attracts and satisfies vacationers of all tastes and budgets with its wide range of accommodations including luxury hotels, chic boutique hotels, and international brands. For more information on tourism, visit: https://turismo.buenosaires.gob.ar/en or follow Buenos Aires' Facebook page or Instagram.

Follow WebBandStand for everything that is cool that matters.