Celebrate the Halloween Season in Connecticut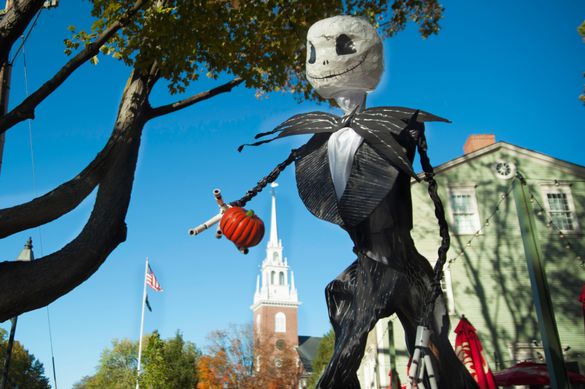 15
---
HARTFORD, Conn.  – Connecticut has a long history of haunted happenings and throughout the month of October, cities, towns and businesses across the state are leaning into the Halloween season with fun, and sometimes frightening, experiences for all. Amid the COVID-19 pandemic, new activities—including drive-through experiences and private ghost tours—have emerged to provide safer ways to celebrate.
To learn more about safe, seasonal fun in Connecticut and see a list of upcoming events, visit the Connecticut Office of Tourism's official website: www.CTvisit.com.
Here are just a few ways to get into the Halloween spirit in Connecticut:
Drive-Through Experiences:
Forest and its Pumpkinhead inhabitants from the comfort of your own vehicle.
No-So-Scary Fun:
Spooky Strolls & Haunted Attractions:
Virtual Experiences:
Favorite Cases, hosted by Seymour Public Library.
movie—to see and hear gripping tales from the city's past.
by Night: Virtual Halloween Trivia Night hosted by the Mattatuck Museum in Waterbury.
October isn't the only time to have a spooky experience in Connecticut. Many places rumored to be haunted are open year round.
"October is a beautiful time to explore Connecticut and this year's lineup of Halloween events help make the season that much more fun—and safe—for the whole family," said Randy Fiveash, director, Connecticut Office of Tourism. "Regardless of how you choose to celebrate the Halloween season, we strongly encourage everyone to follow the rules and guidance provided by state and public health officials."
Read the Connecticut Department of Public Health's Halloween Guidance here.
For more fall fun ideas, check out 36 Things to do in Connecticut this October onwww.CTvisit.com. And, join the social media community
on Facebook, Twitter, Instagram and Pinterest.
About the Connecticut Office of Tourism
The Connecticut Office of Tourism, a division of the Connecticut Department of Economic and Community Development (DECD), is dedicated to enhancing the economic growth of Connecticut's tourism industry. Together with its many state and industry partners, the Office of Tourism works to bolster the state's reputation as a destination that offers a diverse mix of activities and attractions, all in close proximity to each other—from the exciting and relaxing to the historic and innovative to the culture and nature-focused. For more information, visit www.CTvisit.com.
###
Contacts:
Emily Pangakis
Adams & Knight
860-676-2300 x 129 emily.pangakis@adamsknight.com
Randy Fiveash
Director, Connecticut Office of Tourism
860-500-2369 randall.fiveash@ct.gov
Follow WebBandStand for everything that is cool that matters.