China – Sagano Presents Sakura Set Lunch and Sakura Kaiseki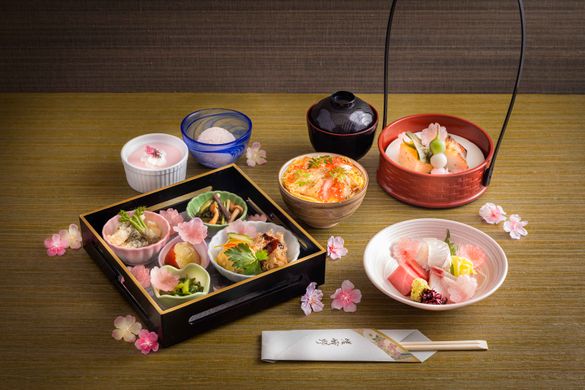 ---
New World Millennium Hong Kong Hotel's Japanese restaurant, Sagano, presents sakura-themed dining experiences this March and April, featuring a seasonal sakura-themed lunch and dinner created by Kyoto-born Japanese Chef Masahiko Noka, for Hong Kong diners to celebrate the splendid sakura blossom both day and night.
The highlight of the exquisite Sakura Set Lunch is the assorted seasonal appetisers, with a variety of petite Japanese treats including Poached Vegetables; Marinated Wild Vegetables with Nameko; Prawn with Sakura Leaf Tempura and Deep-fried Wild Vegetables; Stewed Sweet Potatoes in Lemon Sauce; and Black Pork Cutlet Fillet with Potato Salad.  The set lunch also comes with assorted Sashimi including Tuna, Sea Bream, Yellowtail and Sweet Shrimp, as well as Grilled Silver Cod with Miso Paste, Mini Glutinous Rice Dumplings, Grilled Egg Rolls and assorted Chirashi Sushi on rice served with miso soup.  Desserts are homemade Sakura Pudding and Sakura Ice Cream using aromatic sakura leaves from Japan.
Appreciating sakura is not only a daytime activity in Japan; at night the blossoms are illuminated for strollers to admire the display.  Inspired by this tradition, Chef Noka has tailor-made a sakura-themed kaiseki menu for guests to celebrate the season during the dinner period.
The festive kaiseki starts with refreshing appetisers and assorted sashimi, including Toyama Squids with Sour Miso Paste and Poached Vegetables; Marinated Sweet Shrimp and Sea Urchin with Sake; and Sea Bream Sushi with Broad Beans.  This is followed by jet-fresh assorted Sashimi from Japan, as well as Stewed Alfonsino with Sea Urchin in Sake; Grilled Spanish Mackerel with Yuzu, Prawn and Spring Wild Vegetable Tempura; and minced Fatty Tuna and Spring Onion on rice with Salmon Roe and Sea Urchin Sushi served with Red Miso Soup.  The homemade Sakura Pudding with Greenhouse Melon gives diners a perfect ending to the sakura feast.
The Sakura Set Lunch is priced at HKD510 per person.  The Sakura Kaiseki is available at dinner for HKD1,380 per person.  Prices are subject to 10 percent service charge.  For enquiries or reservations, please call 2313 4222.  Due to the outbreak of Novel Coronavirus, the hotel has made special arrangements on food and beverage operating hours to protect the safety and health of all guests. (https://bit.ly/2VI0y1Q)
Members of Epicure, the hotel's dining membership programme, can enjoy an exclusive 25% discount; blackout dates apply. Guests who are not members yet can also sign up for the programme for free by simply completing the form (https://newworldmillenniumhotel.com/wp-content/uploads/sites/14/2014/05/Epicure-Application-Form.pdf) and emailing it to communications@newworldmillenniumhotel.com. The application takes seven working days to process.
About Sagano
Inspired by a famous suburb of Kyoto, Sagano offers a wide range of authentic Japanese specialties, from sushi and tempura to teppanyaki and kaiseki, using the freshest seasonal ingredients. Six VIP rooms are available, one of which is a tatami room with traditional bamboo flooring.  Here, dining is no longer just about food, but a complete cultural experience.
Follow the hotel on
Facebook:        www.facebook.com/nwmhk
Instagram:       newworldmillenniumhkhotel
WeChat:           NewWorldHotels
Follow WebBandStand for everything that is cool that matters.