Culinary Wonders In The Maldives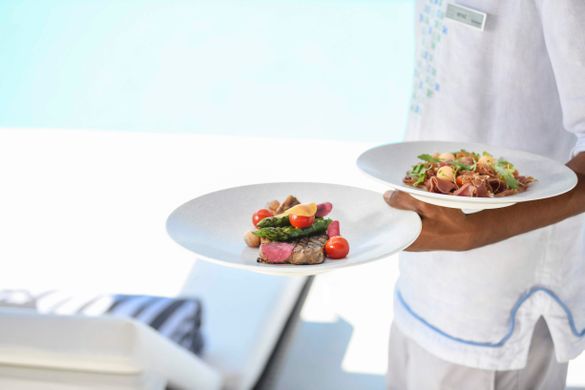 ---
Culinary connoisseurs visiting the Maldives this summer will have a mouthwatering choice of food sensations to choose from.
Foodies can hop from island to island and explore the menus of 12 different resorts during the Baa Atoll Summer Festival or get hands-on experience of preparing vegan meals at Mirihi Island Resort. For holidaymakers interested in sampling traditional Maldivian cuisine, Ba'theli Restaurant at Milaidhoo Island Resort is the first modern Maldivian fine-dining restaurant in the Maldives where guests are encouraged to arrive barefoot.
Island Hop During The Baa Atoll Summer Festival From 8th – 21st July 2019
Following last year's inaugural Baa Atoll Summer Festival, 12 resorts are once again teaming up in the Maldives' Baa Atoll to host the second edition of the festival. The event will be held from 8th – 21st July and will bring together participating resorts such as Amilla Fushi and Vakkaru Maldives for an island-hopping extravaganza in which guests can embark on a unique dine-around voyage. Every night the resorts will showcase the best they have to offer in the culinary scene, ranging from sunset cocktails to sandbank dinners and more. The gastronomic events are complemented with a range of leisure activities like watersports or beach volleyball, concluding with a Catamaran Regatta on the final day of the festival.
Each resort will offer diners a three-course tasting menu with a glass of wine for £95 ($120) per person. Complimentary speed boat transfers will be organised by the participating resorts on the featured night. For further information on the Baa Atoll Summer Festival, visit www.baaatollfestival.com
Experience Maldivian Curries And Seafood At Ba'theli Restaurant
The Ba'theli Restaurant at Milaidhoo Island Maldives offers diners an all-round experience of the Maldives' cuisine and culture. Headed by Maldivian chef Ahmed Sivath, Ba'theli's dishes are steeped in local tradition and inspired by the Maldivian Spice Route, where traders and locals exchanged spices for local delicacies over 5,000 years ago. Taking its name from the local word for a traditional wooden sailing boat, the restaurant is built in the shape of three boats standing on stilts over the lagoon, giving guests the opportunity to dine on curries, soups and fresh seafood under the stars on deck or inside the boat where a glass floor reveals views of the marine life below.
Ba'theli at Milaidhoo Island Maldives is open for dinner every night from 7pm and offers an a la carte choice as well as a six-course Maldivian heritage tasting menu for two people for £197 ($250).  Milaidhoo is only a 30-minute seaplane journey away from Velana International Airport. Room rates start from £1,235 per night in a Water Pool Villa on a half board basis, based on two sharing. For further information, visit www.milaidhoo.com.
Cook Vegan Meals On The Waterfront At Mirihi Island Resort 
Catering to the ever-growing number of vegans worldwide, Mirihi Island Resort has unveiled a new vegan cooking class offering that allows guests to uncover the art of Maldivian vegan cuisine under the basking sun or stars of the night sky. Aprons and utensils at the ready, budding chefs can try their hand at cooking and preparing a vast array of delicious vegan courses with a Maldivian twist. In this way, guests can engage with and learn about the local culture and cuisine before enjoying a culinary feast for two.
The vegan culinary offering at Mirihi Island Resort can be booked for lunch or dinner and costs from £69 ($87) per person. Price is subject to 10% service charge and 12% tax. Nightly rates at Mirihi Island start from £472 per villa, on a bed and breakfast basis, based on two people sharing. Prices are subject to 10% service charge and 12% GST. For more information or to make a reservation visit www.mirihi.com
For further information on the Maldives, visit www.visitmaldives.com.
Website |www.visitmaldives.com
Facebook |www.facebook.com/visitmaldives
Instagram |www.instagram.com/visitmaldives
Twitter |www.twitter.com/visitmaldives
YouTube |www.youtube.com/visitmaldivestv
Follow WebBandStand for everything that is cool that matters.