Culture in Cloth: The Blueprint of Central Europe.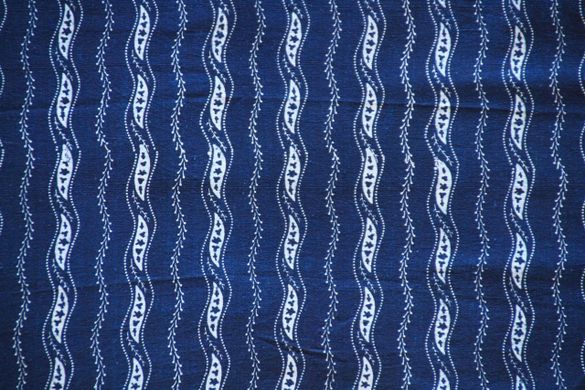 ---
The technique of modrotisk (literally meaning blueprint or blue-dying) involves a secret recipe of special paste, which is applied to the cloth using hand-carved, sometimes 300-year-old wooden blocks. These blocks contain patterns of flowers and plantsoften found in the surrounding regions, making the fabric a popular element of regional folk costumes. The cloth is finally dipped in deep indigo-blue dye, while the paste keeps the patterned areas a crisp, bright white in contrast.
Two family businesses have kept this technique alive in the eastern Czech region of Moravia:  Danzinger Blueprint in the Moravian town of Olešnice and Strážnice Blueprint in the town of the same name. This technique has traditionally been passed down across generations – Strážnice Blueprint benefits from the fifth-generation knowledge of František Joch Jr, and the Danziger family (previously the Weiss family) uses family secrets from as far back as the 16th century in a workshop founded in 1816. These workshops also depend on Milan Bartoš and Jaroslav Plucha from Dvůr Králové nad Labem as two of the last craftsmen capable of producing or repairing the equipment for this process. UNESCO notes that "Stakeholders feel a strong emotional bond with their products, and the element encapsulates a sense of pride in long-lasting family traditions."
Modratisk becomes the sixth piece of Czech life to join the ranks of UNESCO-recognized cultural heritage. Previous listings went to local puppetry, Slovácko  Verbuňk folk  dance,  Shrovetide  processions from  the  Hlinecko  Region,  Falconry and  the  Ride  of  Kings. The latest addition of blueprint combines the beauty of Czech textile work, the distinctive detail of regional identities, the value of familial knowledge, and a national commitment to keeping historical hand-crafted processes alive for future generations (and visitors) to enjoy.
More  Information
https://ich.unesco.org/en/RL/blaudruck-modrotisk-kekfestes-modrotlac-resist-block-printing-and-indigo-dyeing-in-europe-01365