Delicious Devon Is Britain's Foodie Heaven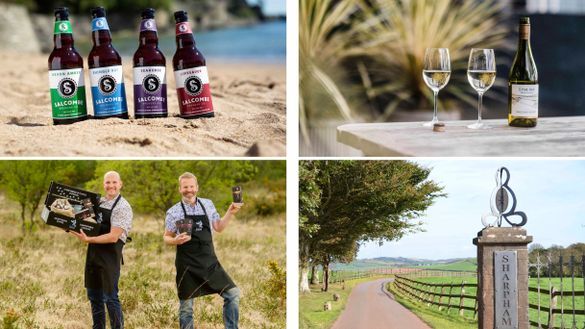 ---
Make sure to visit Food Drink Devon's stand at IMM 2020 to learn about the county's thriving food and drink scene that has made it a hotspot for food tourism.
There has never been a more exciting and vibrant time in Devon's gastronomic history. The wealth of premium producers and innovative purveyors have capitalised on the outstanding natural resources and incredible raw talent to help put the county firmly on the foodie tourist map.
The unique combination of moorland grazing, rich arable soil and coastal waters means that nowhere else in Britain boasts the same variety of fresh local produce. From grass-fed cattle and free range poultry to fresh fruit (including grapes!) and vegetables, rapeseed and seaweed and local fish and shellfish, Devon has it all right on its doorstep.
Visitors to the county can stock up on these delights at one of our host of fabulous farm shops or straight from the producer at a traditional farmers' market or one of our growing number of food fairs and festivals.
The ready availability of such high quality ingredients means that visitors are never far from a mouth-watering meal. Choose from cosy cafés serving Devonshire cream teas and homemade cakes, charming pubs matching inspirational food with local brews and innovative restaurants delivering exceptional dinners.
For those who like to get more hands on with their food, Devon has an unrivalled range of foodie experiences from vineyard and farm tours to gin making, beer brewing, wine tasting and cookery classes.
Combining outstanding food with incredible scenery and as much or as little activity as you like, Devon is the place to visit. Join us to find out more about the fabulous food and drink in Devon and learn about some of our premium producers and select venues.
For more information and to collect your goody bag packed with delights from Devon, visit Food Drink Devon at IMM 2020 or head to www.fooddrinkdevon.co.uk and sign up for our monthly newsletter or follow @FoodDrinkDevon on Twitter, Facebook and Instagram.
Food Drink Devon is the county's only membership organisation supporting quality, sustainability and provenance in the food and drink industry. They represent over 250 members including producers, cafés, restaurants, pubs, bistros, hotels, cookery schools, catering businesses, speciality retailers and farmers' markets.

Follow WebBandStand for everything that is cool that matters.