Have Yourself a Southern Little Christmas
Make precious memories that last with holiday fun throughout the Southeast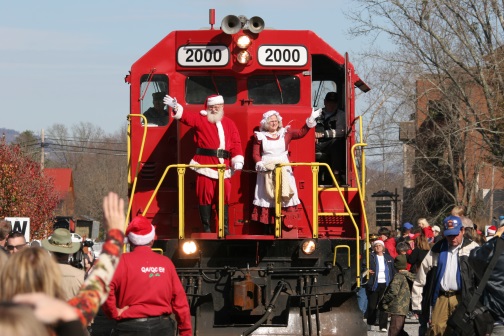 ATLANTA, GEORGIA–AUGUST 2019–Get into the HO HO HOliday spirit with a tour of the South's finest Christmas festivities. Between world-renowned twinkling lights, shopping fit for Jolly Ol' St. Nick himself and train rides that dazzle the imagination, these Southern adventures are sure to be forever etched into your family's favorite yuletide memories.
Abingdon, Virginia
Step back in time through centuries of architecture, holiday customs and history, from Colonial to Appalachian to the Civil War to the present, in Abingdon, Virginia. Located in Southwest Virginia between the soaring peaks of the Blue Ridge Mountains in the Great Appalachian Valley, Abingdon is the ultimate costumed and sparkling backdrop for a magical holiday vacation. The brick sidewalks and ancient oak trees are lined with lights and carolers, and street vendors sell fragrant roasted chestnuts and Christmas crafts each weekend. The State Theatre of Virginia, the legendary Barter Theatre offers a variety of holiday productions on two stages, from naughty ("Santaland Diaries") to nice ("White Christmas," "Jacob Marley's Christmas Carol"). Mid-November through December (check dates and times with the theater), come for holiday entertainment and shopping. Pick up exquisite gifts at independent boutiques, Holston Mountain Artisans and The Arts Depot where contemporary craftspeople carry on time-honored traditions. Take advantage of off-season rates with a stay at the 4-star historic Martha Washington Inn and Spa (circa 1800s), with its indoor saltwater pool and outdoor hot tubs. VisitAbingdonVirginia.com/highlights/christmas
Alpine Helen-White County, Georgia
Take your holiday to new heights with magical events in Alpine Helen, a Bavarian beauty set in the Northeast Georgia Mountains. Fill up your shopping bags at Helen's annual Christkindlmarkt, a German tradition where the center of town is filled with booths offering specialty gift items, decorations, assorted savory foods, drinks and candied treats. This shopping extravaganza is November 30-December 1 and December 7-8 at Helen Market Platz. Join in a Victorian Christmas, 4-7 p.m., December 6-7 and December 13-14, at the Hardman Farm State Historic Site and see the house gently dressed in period holiday décor while learning about Victorian holiday traditions in Sautee, Nacoochee. For a nighttime experience, don't miss the annual Christmas in the Mountains Lighted Parade as it brightens up Downtown Cleveland on December 7. Make a day trip to witness floats, bands and costumed characters during The Helen Christmas Parade as it winds through downtown at 2 p.m. on December 14. When Christmas is over, break out the party hats and ring in 2020 with the Dropping of the Edelweiss New Year's Eve Event on December 31 at Helen's Festhalle. Munch on hors d'oeurves, listen to music, clink glasses and toast to the New Year. www.HelenGA.org
Americus, Georgia
All aboard for holiday fun! On Saturday, November 30, climb in and take a seat on the SAM Shortline in Americus, Georgia. Chug along in 1949 vintage cars to the historic and quaint town of Plains–home of President Jimmy Carter. The President and former First Lady will flip the switch to brighten the town for the annual Christmas Lighting, setting off the warm glow of lights and readying the mood to enjoy Christmas music and activities in this charming slice of the South. While riding back to Americus, make sure you have your Christmas wish list ready, as Santa Claus himself will make his way through the old-fashioned railroad car. Stay in town for the Americus Christmas Parade on December 5, where they roll out all the stops. Watch in wonderment as some 75 floats, live music and special guests process through town, spreading good cheer. VisitAmericusGA.com
Blue Ridge, Georgia
The holidays march off to a spirited start in Blue Ridge, Georgia, as Santa and Mrs. Claus parade through town on November 30 for Light up Blue Ridge. Enjoy festivities throughout the day, including live band performances, caroling, refreshments and the lighting of the great Christmas tree in the downtown area. While in town, fill up your own sleigh by shopping the Holiday Art Show and Sale, picking out regional art and handmade crafts for the special ones on your list. The Sale runs from November 16-January 4. For more information, call (706) 632-2144. You're sure to be "laughing all the way" aboard the Santa Express Train offered through the Blue Ridge Scenic Railway. While on board, hear "Twas The Night Before Christmas," sing Christmas carols and, of course, enjoy a meet and greet with Jolly Ol' St. Nick! The train takes off November 29 and rides through December 23. There's also an opportunity to ride the New Year's Eve train. www.BlueRidgeMountains.com
Capital City/Lake Murray Country, South Carolina
Delight in Fir Trees among the Palm trees in the Palmetto State's Capital City. Step back in time and celebrate Christmases of yesteryear at the Holiday House Tours of Historic Columbia where you'll find historic house museums beautifully decorated and offering a glimpse into holiday celebrations of 19th and early 20th century Columbia. Take in the greenery, November 15-January 5, while guides tell stories of holidays gone by. For more Historic Columbia fun, on December 14, take a Candlelight tour of the Hampton-Preston Mansion and Robert Mills House. Relish the live music, children's activities and even take a carriage ride through the district. On December 14, have Breakfast with Santa at the cozy Robert Mills Carriage House. See a Victorian Christmas Tree and make crafts to take home. ww.LakeMurrayCountry.com
Cleveland, Mississippi
Enjoy 50 Nights of Lights in Cleveland from November 9-December 31. There's a fabulous tree lighting, over 100,000 lights in all, live Christmas music and a holiday open house at downtown stores. The lights will be on until January 2 and there will be events planned during the day and on weekends through the month of December. Shop historic Crosstie Shopping District and see the lights between Cotton Row and Sharpe Avenue in this third annual extravaganza complete with walking light tunnels. www.VisitClevelandMS.com
Columbus, Georgia
The Christmas spirit takes hold of Columbus, Georgia, even before the leaves begin to
fall. This inviting Southern town is the home of The Ludy Christmas Spectacular. The Ludy family starts decorating in August and mesmerizes guests from both near and far with 250,000 lights. The show-stopping home was featured on ABC's "The Great Christmas Light Fight." On December 7, the annual Bi-City Christmas Parade pulls out all the stops as it marches through Uptown Columbus. Then on December 8, Historic Columbus celebrates the holidays through music, history and architecture with the 2019 Holiday Home Tour. And, back by popular demand, Jim Pharr and Ben Redding will be returning to the stage at the Springer Opera House putting the fun in DysFUNctional with the annual production of "A Tuna Christmas" from December 13-23. www.VisitColumbusGa.com
Duplin County, North Carolina
Duplin County's Liberty Hall hosts a Candlelight Christmas tour amid a house decked with fruit and greenery as it would have been in the 19th century. A costumed-guide leads visitors through Liberty Hall, as guests visit with different costumed room interpreters that will share stories and traditions of families that lived in the Antebellum South. Visit the Civil War Soldier Encampment and learn about a soldier's life in the Civil War. Tours will take place 6-8 p.m. on Friday, December 6 and 5-8 p.m. on Saturday, December 7. Reservations are required. Additionally, don't miss Christmas by Candlelight at Liberty Hall, from 5-7:30 p.m. on December 7-8  where visitors can journey back in time with period-costumed guides giving tours through the decorated restored Greek revival house and grounds. Hear special holiday music and enjoy original Kenan family recipes. Please call Liberty Hall for reservations at 910-296-2175. www.UncorkDuplin.com
There's more nighttime fun to be had during the Christmas Parade in Hampton, Georgia, at 6 p.m., December 7. www.VisitHenryCountyGeorgia.com
LaGrange, Georgia
No need to travel to Bethlehem to peek into the very first Christmas. The Biblical History Center in LaGrange takes guests on the journey with their Follow The Shepherd Walks. Trace the steps of Joseph and Mary as they travel from Nazareth to Bethlehem and learn new insights into the Christmas story in one of the most authentic settings this side of Israel from December 3-21. Throughout the month of December, celebrate the Holidays at Hills & Dales Estate where the historic Southern mansion is adorned with the complements of the season. Gaze at the Christmas tree styled circa 1940 and feel old-fashioned merriment. On December 14, it's the Children's Christmas Celebration, where kids can create their own gingerbread house; participate in a Christmas sing-a-long, story time and visits with Santa. After a blizzard shuts down the roads on Christmas Eve, a motley crew of travelers find themselves stranded at the local community center. From the lovelorn drama teacher with a bus full of students, to the quarrelsome couple on the way to their wedding, to the overeager Sheriff ready for some real criminal action, everyone has their own troubles to untangle. But to have a happy holiday, they're going to need a miracle–or seven, to be exact. "Closed for the Holidays" is a spirited and heartwarming comedy with a healthy dash of Christmas magic. It runs from December 12-14. www.LaGrangeChamber.com
Martin County, Florida
Can't wait for the Christmas season? You don't have to in Martin County, Florida. Get a head start on that Christmas list with the Shop-A-Palooza Sidewalk Sale, November 9-10. Find holiday treasures at the 25-plus shops adorning the streets of Historic Downtown Stuart. On November 29, things heat up at the Christmas on Main Street Tree Lighting Festival. Delight in an ornament decorating station, face painting, balloon art, a living manger, petting zoo and take a picture with Santa and Mrs. Claus. Then, just after sunset, feel the warmth from the hundreds of lights that fill the official Stu¬art Hol¬i¬day Tree. The Stuart Christmas Parade makes Christmas magic on December 6 with unforgettable floats. On December 7, the annual Stuart Christmas Parade sets sail as mariners decorate their vessels and cruise the local waterways. Watch the maritime spectacle from restaurants, docks or many places along the shoreline. It's not the holiday season without tempting the taste buds, so plan to delve into delicious eats at A Taste of Jensen on December 10. This sell-out event is complete with live music, holiday shopping and old-school Florida charm. www.DiscoverMartin.com
Get an early start on good cheer this season with Swansboro By Candlelight from 5-9 p.m. on Saturday, November 9. Enjoy a magical celebration in historic downtown Swansboro as a prelude to the upcoming holiday season where local shop owners will deck their halls with ribbons and bows greeting patrons with treats and luminary-lined streets creating a yuletide glow. There will be entertainment, live music, wine tasting, an art show and shopping, of course! The Annual Swansboro Christmas Flotilla on November 29 is a time-honored tradition on the Friday after Thanksgiving. Folks gather along the waterfront at dusk to watch the parade of lighted boats sail into Swansboro's White Oak River. Enjoy music and treats (think funnel cakes, cider and cocoa) and if you're really good, you just might catch a glimpse of Santa. Also, on November 29, Mike's Farm Festival of Lights fires up for the season running through December 23. Come for dinner, a hayride and the weekend Ho! Ho! Christmas Show. Biscuits, Sweet Tea and Christmas is the perfect holiday season event (also at Mike's Farm) with supper, a hayride and show. Don't miss this stunning farm during the festive Christmas season. www.OnlyinOnslow.com
Pawleys Island, South Carolina 
The Hammock Shops of Pawleys Island holds the annual Christmas Tree Lighting from 3-6 p.m. on November 23. There are 22 unique shops and eateries peddling gifts, clothing, jewelry, art and more. Spend some time meandering through the garden-like grounds and give your holiday shopping a boost. Also, in Georgetown, the holiday season is bursting with things to do including a Christmas concert at the Winyah Auditorium at 7:30 p.m. on December 6; Kaminski House Museum Designer Showcase Candlelight Tours as part of their 250th Birthday Celebration (from 5:30-7:30 p.m., Thursdays December 5 and 12 with family night from 4-6 p.m.on December 21); the Christmas Parade at 11 a.m. on December 7 along Front Street in downtown Georgetown; Kringle Krawl also on the 7th at 5 p.m. and a great opportunity to try out local restaurants and businesses; Christmas Boat Parade and Tree Lighting (at 6 p.m., December 7); the Singing Christmas Tree at First Baptist Church of Georgetown December 13-16 with a 75-voice choir singing in a 23-foot tree accompanied by a live instrumental ensemble; and the Yuletide Tour of Homes, a fundraising event for the library with a self-guided tour of festive mantels, staircases, trees, lights, candles and doors of historic homes and local places of worship. www.OnlyPawleys.com, www.HammockCoastSC.com
Make plans now to see Holly Stevenson as Catherine Evelyn (Eva) King Baker in the reenactment of the 1923 interview with Margaret Mitchell. At the time, Mitchell was an Atlanta Journal reporter and the interview was a feature in the Sunday Magazine. Reservations for the December 14-15 Bridesmaid of Barrington Hall show may be made by call 770-640-3855 as seating is limited. Bulloch Hall's Annual High Teas event includes servers in period clothing presenting guests with gourmet sandwiches, homemade desserts and traditional tea delicacies. A tour of decorated Bulloch Hall is included, and reservations may be made at 770-992-1731 ext. 2. Not your normal Gingerbread House Decorating event, Barrington Hall Cooking Class on December 3 includes a white chocolate martini and light dinner. Make your reservation now at 770-6640-3855. Learn how to create the perfect Polish Christmas Feast of roast lamb, kielbasa, split peas and cabbage with Polish Cream Cake for dessert at a Barrington Hall Cooking Class. Reservations are required for this December 10 event at the number above. Incorporate Scandinavian culture into your kitchen this holiday season wowing guests with a full Swedish menu for your dinner party. December 17 is the date and reservations are required as well. Roswell Center Stage Series: 'Tis the Season to Be Merry is a lovely night of holiday tunes with the Atlanta Pops Orchestra featuring former Celtic Woman, Chloe Agnew. Sing along to festive favorites while slipping peacefully into the holiday spirit. Purchase tickets online for the December 6 event. Roswell also presents the 1853 Living History Wedding of Mittie and Theeotherwise known as Theodore Roosevelt (Sr.) on December 19 at Bulloch Hall. Drama and historical accuracy will guide guests through the spirit of romance with storytelling and a wedding cake with a special cold dessert. Reservations are required (770-992-1731 ext. 2). December 13-15 brings along famed event, "The Nutcracker" at the Roswell Cultural Arts Center presented by the Atlanta Dance Theatre. Tickets are available for purchase online. Kids both large and small will delight in the December 20-21 Roswell Youth Theatre's production of "Disney's Frozen, Jr.," perfect for the season. www.VisitRoswellGA.com
Thoroughbred Country, South Carolina
Jingle all the way through the holiday season in Thoroughbred Country, South Carolina. From the North Augusta Tour of Homes December 6-7 to the Aiken Community Theatre's production of "A Christmas Story" (7:30 p.m., December 5-7 and 12-14; 2 p.m., December 8), there's something for everyone searching for Christmas cheer! Night of 1,000 Lights on December 5 is an awesome downtown Aiken experience as luminaries line the streets and shops stay open late offering holiday treats, drinks and festive music. December 6 is an evening of music, merriment and mirth in Renaissance style at the 7th Annual Madrigal Dinner: A Renaissance Yuletide Feast. Enjoy light appetizers, a rustic dinner and dessert while period music is played and Christmas carols are sung by the Aiken Choral Society musicians. Guests are encouraged to dress the part for the evening. Do some shopping at the Christmas Craft Show December 6-7 where you'll find more than 150 exhibitors. Bring the family for one of the most unique events you'll find during the holidays–Christmas for the Birds. The Living History Park will host an event to create decorations for the park that birds can eat. Bring apples, oranges and peanut butter for the birds and dog or cat food for local pet adoption centers, or just bring yourself and the kiddos to create holiday joy at Christmas for the Birds on December 7. Cider and cookies will be served alongside a healthy dose of fun. Join the Aiken Symphony Orchestra on December 10 as they present Handel's Messiah at St. Mary's Help of Christians Catholic Church. The Princely Players tell the story of the century-old struggle for freedom by Africans in America, culminating in the Civil Rights movement and continuing even still. Catch this powerful production on December 12 and also on the same date, don't forget about Christmas in the 1800s where Kim Poovey (author, storyteller and living historian) transports you back in time to a 19th century Christmas. Enjoy dinner, dessert, wine/coffee/tea and music. Home for the Holidays is December 14 and celebrates Christmas and Broadway Holiday favorite tunes by the Aiken Symphony Orchestra. Enjoy the 28th annual Christmas in Hopelands December 14-23 (and 26 as well)–an enchanting walk-through exhibit featuring two miles of lighted pathways and holiday displays. A free event, guests can expect to see more than 100,000 twinkling lights perfect to get even Scrooge into the Christmas spirit. The Nutcracker is a holiday staple and will be presented December 20-22 by the Aiken Civic Ballet. And, December 21 and 28 you can discover the Christmas holiday as the enslaved families of Redcliffe Plantation experienced it over 170 years ago at Christmas in the Quarters. www.TbredCountry.org
The best Holiday Home Tour in Florida according to USA Today's "10Best" is the Stetson Mansion "Christmas Spectacular!" going on from November 15-January 15. As holiday happenings go, nothing warms your holiday heart faster than 10 elaborate designer-themed rooms in Florida's grandest Victorian mansion. Built in 1886 for famed hat maker JB Stetson, Florida's first-ever luxury estate presents a new and different adult-oriented display each year. Guided Christmas tours of the private estate are offered three to five times, daily, and are the highlight of any holiday visit to DeLand and the West Volusia region. Tickets are limited and reservations are required. For a simpler celebration, the Barberville Pioneer Settlement offers "A Florida Christmas Remembered." The one-day event is held on the grounds of this charming village and features living history demonstrations, children's craft projects and appearances by Mr. and Mrs. Claus. Live music provides entertainment throughout the day, including traditional, gospel and original sounds of the season. www.VisitWestVolusia.com
Follow WebBandStand for everything that is cool that matters.