Hilton Seychelles Welcomes Top London Chefs for 'A Treasure Trail of Taste'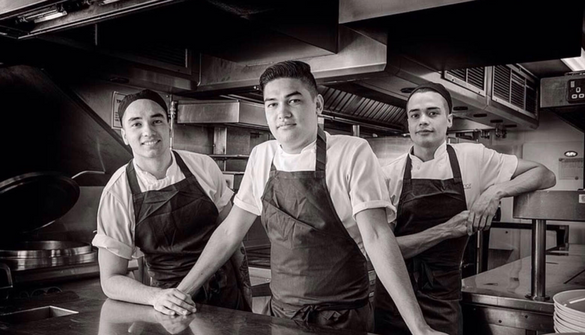 Hilton Seychelles Northolme Resort & Spa and Hilton Seychelles Labriz Resort & Spa are delighted to announce the launch of 'A Treasure Trail of Taste' – a series of gastronomic events inspired by the famous 17th century pirate, Olivier Levasseur, who allegedly hid one of the biggest treasures in pirate history in the Seychelles. Hilton Seychelles has carefully selected and invited chefs from along Levasseur's sailing routes across Britain, the Caribbean and the Indian Ocean, to host a succession of culinary experiences over the coming months. This series of foodie events will see some of London's hottest chefs arrive in the Seychelles in June 2019.
To kick off 'A Treasure Trail of Taste' and commemorate Levasseur originally sailing under the British flag with fellow pirate, Benjamin Hornigold, Hilton Seychelles will welcome British chefs, the Selby brothers, between 5th-19th June 2019 to offer five epicurean evenings on both Silhouette Island and Mahé. London-based chefs Luke, Theodore and Nathaniel Selby are currently based at London's critically-acclaimed, Michelin-starred HIDE Restaurant in Mayfair. During the June dates, the three brothers will take over the reins in the Hilton Seychelles restaurant kitchens to create five unique dining experiences for hotel guests and locals alike.
Luke Selby, winner of both National Chef of the Year and the Roux Scholarship in 2017 and even more recently, one of the winning competitors on BBC 2's Great British Menu, is delighted to be collaborating with Hilton Seychelles. Speaking about this upcoming project, Luke says: "Nathaniel, Theo and I are greatly looking forward to our time at Hilton Seychelles and are very excited to be the first international chefs to take part in 'A Treasure Trail of Taste'. We look forward to discovering what looks to be a magical place, and hoping our food and menus will sprinkle even more magical dust over these incredible properties."
As keen supporters of the local hospitality industry, Hilton Seychelles is working with the Seychelles Tourism Academy (STA) to ensure the younger resident talent benefit from having award-winning global chefs on the island. A select group from the Academy will be shadowing the three brothers over the June dates, with one of the top students being chosen to work alongside Luke Selby in the kitchen, to help prepare the final dinner at Hilton Seychelles Northolme Resort & Spa on 19th June.
Hilton Seychelles has also partnered with Levasseur Rum to offer the local, artisanal spirit throughout 'A Treasure Trail of Taste'. The local distillery creates a unique and rare blended rum which is centred around everything that is bold: the achiever, the conqueror, the go-getter – a fitting partnership for these events which celebrate world-renowned chefs as they take over the Seychelles.
This exciting collaboration between Hilton Seychelles and the Selby brothers is just the first in a series of chef collaborations for both five-star hotels. The team look forward to hosting a year of unique gastronomic events, promising to take foodie guests on a culinary journey, in the heart of the Indian Ocean.
Full event details below, in partnership with Luke, Theodore & Nathaniel Selby:
7th June – Hilton Seychelles Labriz – Colonial Cocktail Event at Grann Kaz, inspired by Levasseaur's British beginnings
8th June – Hilton Seychelles Labriz – Banquet on the Bridge – a six-course pairing menu on the lagoon with live music
14th June – Hilton Seychelles Labriz – Diamond Dinner at Portobello, inspired by Olivier Levasseur's famous diamond robbery – six-course dinner with live music
16th June – Hilton Seychelles Labriz – Bohemian Sunset Session at 4th Degree Beach Bar, cocktails and canapés followed by DJ
18th June – Hilton Seychelles Northolme – Selby brothers food tour of Mahé
19th June – Hilton Seychelles Northolme – Selby brothers visit Sir Selwyn Clark Market with STA students. Captains Dinner at Les Cocotier, a marine-inspired, six-course pairing menu with live entertainment
Nightly rates start from €310/ £273* in a Garden Villa on a B&B basis at Hilton Seychelles Labriz Resort & Spa. The hotel is located on Silhouette Island, 40 minutes by boat or 15 minutes by helicopter from the main island of Mahé. For more information and to book, please visit www.hiltonseychelleslabriz.com. 
Hilton Seychelles Northolme Resort & Spa is located in northwest Mahé, 25 minutes away from Seychelles International Airport by car or taxi. Prices start from €450/ £397* in a King Sunset Villa per night on a B&B basis, and €2,400/£2,119* per night in Northolme Villa on a B&B basis For more information and to book, please visit http://www.seychelles.hilton.com
About Hilton Hotels & Resorts
For nearly a century, Hilton Hotels & Resorts has been proudly welcoming the world's travelers. With 575 hotels across six continents, Hilton Hotels & Resorts provides the foundation for memorable travel experiences and values to every guest who walks through its doors. As the flagship brand of Hilton, Hilton Hotels & Resorts continues to set the standard for hospitality, providing new product innovations and services to meet guests' evolving needs. Hilton Hotels & Resorts is a part of the award-winning Hilton Honors program. Hilton Honors members who book directly through preferred Hilton channels have access to instant benefits, including a flexible payment slider that allows members to choose nearly any combination of Points and money to book a stay, an exclusive member discount that can't be found anywhere else, free standard Wi-Fi, and digital amenities like digital check-in with room selection and Digital Key (select locations), available exclusively through the industry-leading Hilton Honors mobile app. Begin your journey at www.hilton.com, and learn more about the brand by visiting news.hilton.com, or following us on Facebook, Twitter, and Instagram.
About Hilton
Hilton (NYSE: HLT) is a leading global hospitality company, with a portfolio of 14 world-class brands comprising more than 5,300 properties with more than 863,000 rooms, in 106 countries and territories. Hilton is dedicated to fulfilling its mission to be the world's most hospitable company by delivering exceptional experiences – every hotel, every guest, every time. The company's portfolio includes Hilton Hotels & Resorts, Waldorf Astoria Hotels & Resorts, Conrad Hotels & Resorts, Canopy by Hilton, Curio Collection by Hilton, DoubleTree by Hilton, Tapestry Collection by Hilton, Embassy Suites by Hilton, Hilton Garden Inn, Hampton by Hilton, Tru by Hilton, Homewood Suites by Hilton, Home2 Suites by Hilton and Hilton Grand Vacations. The company also manages an award-winning customer loyalty program, Hilton Honors. Hilton Honors members who book directly through preferred Hilton channels have access to instant benefits, including a flexible payment slider that allows members to choose exactly how many Points to combine with money, an exclusive member discount that can't be found anywhere else, and free standard Wi-Fi. Visit newsroom.hilton.com for more information, and connect with Hilton on Facebook, Twitter, LinkedIn, Instagram and YouTube