James Francis Gill: PIONIERE DELLA POP ART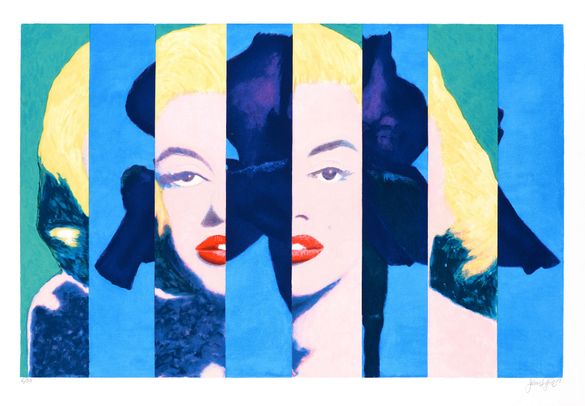 Ausstellung 14.Nov. – 14. Dez. 2020 in der "Biblioteca Nazionale Marciana", Venedig
Die Biblioteca Nazionale Marciana präsentiert in der Einzelausstellung "Pioniere della Pop Art" vom 14. November bis 14. Dezember 2020, mit James Francis Gill, einen der letzten noch lebenden amerikanischen Pop Art Künstler. Ausgestellt sind Serigrafien, die u.a. Werke von James Francis Gill aus den 1960er Jahren als Vorlage haben, sowie neuere Arbeiten. Die Ausstellung kuratiert von Manfred Möller in der Reihe Edition Minerva wird in dem historischen Rahmen der musealen Räume der Bibliothek direkt am Markusplatz gezeigt.
James Francis Gill, 1934 in Tahoka, Texas, geboren, ist zusammen mit Andy Warhol einer der Pop Art Künstler der ersten Stunde. International bekannt wurde Gill bereits 1962, als das Museum of Modern Art in New York (MoMA) sein dreiteiliges Marilyn Monroe Werk "Marilyn Triptych" in seiner Sammlung aufnahm. Auch in renommierten Museumssammlungen wie u.a. vom Whitney Museum of American Art, vom Smithsonian American Art Museum oder der Stiftung Ludwig, ist Gill mit zahlreichen Werken vertreten.
Gills Kunst ist verführerisch und glamourös, Pop Art mit Substanz und Tiefgang, dabei niemals distanziert, sondern direkt und unmittelbar. Im Fokus steht immer das Motiv, die Bilder haben eine große Anziehungskraft und Allgemeingültigkeit. Es sind zeitlos moderne Bilder mit überbordender Farbintensität und einer Reflektion der eigenen Lebenswelt. Gills Stil ist malerisch, gleichzeitig expressiv, das Motiv jedoch ganz in der Pop Art verwurzelt. Die Werke laden die Betrachter regelrecht zur Kommunikation ein.
Sieben der ausgestellten Serigrafien Gills sind zudem in einem limitierten, exklusiven Portfolio der Edition Minerva, das den Prägestempel der Biblioteca Nazionale Marciana trägt, zusammengefasst. Es beinhaltet handsignierte Farbserigrafien auf handgeschöpftem Büttenpapier.
Die amerikanische Schriftstellerin und Kuratorin Lucy R. Lippard, die bereits 1966 ihr Buch "Pop Art" veröffentlichte, schrieb über Gill: "James Gill versucht mit Hilfe von Farbe und Fettkreiden Menschen schnappschussartig in bestimmten Situationen festzuhalten. […] Auf diese Weise hat er Pop-Themen wie Marilyn Monroe, John Wayne oder Präsident Kennedy im flüchtigen Stil des Nachrichtenbildes portraitiert." Henry J. Seldis, Kunstredakteur der Los Angeles Times, schrieb im Jahr 1965 bereits: "Gill entfernt die Masken von Persönlichkeiten des öffentlichen Lebens und enthüllt ihre ver-schwommene Anonymität mit einem starken Impuls auf unser Bewusstsein."
https://www.jamesfgill.com/deutsch/
Der historische Kontext der Pop Art Ausstellung "Pioniere della Pop Art" in den monumentalen historischen Räumen der Biblioteca Nazionale Marciana gibt der Ausstellung eine einzigartige Note.
Biblioteca Nazionale Marciana, Venedig
Die Biblioteca Nazionale Marciana ist eine der größten Nationalbibliotheken Italiens mit einer der wichtigsten Sammlungen für griechische, lateinische und orientalische Handschriften. Die 1468 gegründete Bibliothek, die noch heute mit seinen monumentalen Räumen besticht, beherbergt über eine Million Bände. Größtenteils von Jacopo Sansovino erbaut und von Vincenzo Scamozzi fertiggestellt, zählen die Ehrentreppe, das Vestibül sowie der Hauptsaal mit seiner reich verzierten historisch-künstlerischen Rotunde zu den Highlights der Bibliothek direkt am Markusplatz. Heute finden im Museumsbereich Ausstellungen und Veranstaltungen, wie z.B. zur Biennale, statt.
Ausstellung:
Sali Monumentali della Biblioteca Nazionale Marciana
Eingang zur Ausstellung über
Ingresso Museo Correr
Piazza San Marco n.52 – Ala Napoleonica;
I – 30124 Venedig
T: (+39) 041 24 07 211 E: ufficiostampa@marciana.venezia.sbn.it
Öffnungszeiten: 10.30-18.00 Uhr
Pressefotos
https://www.picdrop.com/zierercom/YiJshNpVUB
copyright James Franics Gill
Künstlermanagement:
Premium Modern Art GmbH & Co. KG
Heuchelbergstr. 60
D-74080 Heilbronn
E: info@premium-modern-art.com
www.premium-modern-art.com
Follow WebBandStand for everything that is cool that matters.