JW Marriott Phu Quoc Weekly Night Market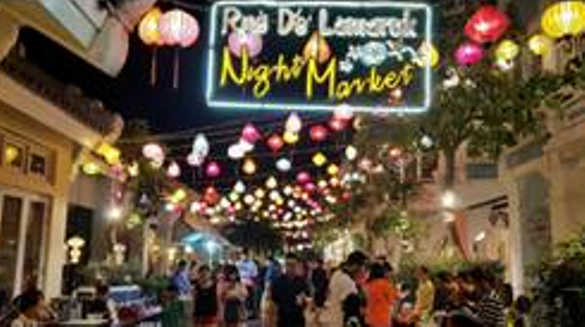 ---
JW MARRIOTT PHU QUOC LAUNCHES ENCHANTING WEEKLY NIGHT MARKET
Resort's Rue de Lamarck comes alive at night with fire dancers, Pho stalls and 'chemists' mixing up cocktails
April 17: An extravaganza of Vietnamese culture and food awaits visitors to the paradisiacal island of Phu Quoc thanks to JW Marriott Phu Quoc Emerald Bay's new weekly Night Market. Every Friday the whimsical resort's cultural hub, Rue de Lamarck, will come alive with street performances, traditional music, and hordes of vendors serving up incredible Viet delicacies. Bringing Vietnamese culture to life in JW Marriott Phu Quoc Emerald Bay's own inimitable style – as well as a 20 percent discount on all services at the resort's spa, restaurants and bars – the Night Market is set to redefine Fridays in Phu Quoc and become the island's hottest new must-visit destination.
From the beautiful handmade lanterns strung high across the wide boulevard, to the colourful Hoi An-style shopfronts, Rue de Lamarck provides a dreamlike setting for the new Night Market. Each element has been curated as a celebration of Phu Quoc's Bai Kem community, representing the enchanting diversity on this little island. From 6-10pm every Friday guests will be immersed in live cultural performances including traditional fire dancing and acrobatics, fun-filled magic shows and live music. Fabulous food stalls serve up everything from Northern delicacies such as Bun Cha and Banh Cuon to widely loved Vietnamese coffee, and there's always something delicious cooking on the beach barbecue. Market goers will also have the chance to shop at the most exquisite artisanal boutiques, savour the fictional former university's varied dining outlets, or unwind in the Chanterelle Spa- by JW, all of which offer 20 percent off during night market hours.
Entry to the Night Market is free for resident guests of JW Marriott Phu Quoc. With a free round-trip shuttle bus from Duong Dong town centre, visitors staying elsewhere can also join the fun for a nominal entry fee of VND200,000 (approximately GB£6.18) – which is immediately exchanged for the resort's 'Lamarck Dong' currency, redeemable at all vendors and stalls in the Night Market. Entry also includes a welcome 'elixir' served in a test tube or beaker courtesy of the Department of Chemistry, and the special Night Market discount of 20 percent off in-resort purchases at all the resort's outlets, including all five restaurants and bars as well as Chanterelle-Spa by JW from 6pm onwards.
Save 15 percent on accommodation at JW Marriott Phu Quoc Emerald Bay Resort & Spa with Western & Oriental (020 3588 6130,www.westernoriental.com). Seven nights start from £1,785 per person based on two adults sharing an Emerald Bay View Room on a bed and breakfast basis, including return economy class flights from London Heathrow and transfers. This offer is valid when booking more than 60 days in advance and for travel completed by 31st October 2018. This offer represents a saving of up to £315 per person. Book with Western & Oriental (020 3588 6130,www.westernoriental.com)
For more information visit: www.jwmarriottphuquoc.com
Instagram: www.instagram.com/jwmarriottphuquoc
-Ends-
About JW Marriott Phu Quoc Emerald Bay
Nestled in the pristine beach of Bai Khem, JW Marriott Phu Quoc Emerald Bay is the proud flagship of JW Marriott Hotels and Resorts in Vietnam. Conceptualised on the fictional narrative of a mythical academy of learning, Lamarck University, JW Marriott Phu Quoc offers a selection of 234 artistically unique well-appointed rooms, suites, and villas with Bill Bensley's whimsical touches blend harmoniously. Boasting of five restaurants and contemporary bars, the crafted dining experience will satisfy even the most discerning palate including Tempus Fugit, French & Co., Red Rum, Pink Pearl and the Department of Chemistry bar. Meetings are redefined in this destination 715 sqm Grand Ballroom, with spacious breakout rooms elegantly designed to suit every need.  A wide range of enriching experiences are waiting to be explored, from cultural events, artisanal shopping experiences, ultimate indulgence at Chanterelle-Spa by JW, to water activities at the resort's private beachfront. www.marriott.com/hotels/travel/pqcjw-jw-marriott-phu-quoc-emerald-bay-resort-and-spa/
About JW Marriott Hotels & Resorts
JW Marriott is part of Marriott International's luxury portfolio and consists of beautiful properties and distinctive resort locations around the world. These elegant hotels cater to sophisticated, self-assured travellers seeking The JW Treatment™ – the brand's philosophy that true luxury is created by people who are passionate about what they do. JW hotels offer crafted experiences that bring to life the brand's commitment to highly choreographed, anticipatory service and modern residential design, allowing guests to pursue their passions and leave even more fulfilled than when they arrived. Today there are more than 80 JW Marriott hotels in over 25 countries. JW Marriott is proud to participate in the industry's award-winning loyalty program, Marriott Rewards® which includes The Ritz-Carlton Rewards®. Members can now link accounts with Starwood Preferred Guest® at members.marriott.comfor instant elite status matching and unlimited points transfer. Visit JW Marriott online, and on Instagram, Twitter and Facebook.
Follow WebBandStand for everything that is cool that matters.