Kembali 2020: A Digital Arts Festival to Rebuild Bali's Creative Community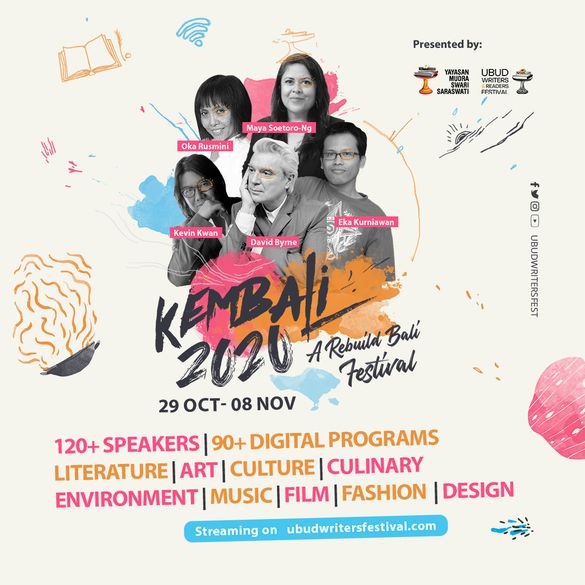 ---
Sydney, The best of Ubud Readers & Writers Festival and Ubud Food Festival come together this year as KEMBALI 2020: A Rebuild Bali Festival, to inspire, reconnect and revitalize the Balinese arts community and will be held online from 29 October—8 November 2020.
Amidst the global pandemic, KEMBALI20 will be this year's most important celebration of Indonesia's creative arts, literature and culinary richness, a pillar of human resilience and survival.
Bringing together the most successful elements of Ubud Writers & Readers Festival and Ubud Food Festival, the program includes panel discussions, workshops, book launches, poetry readings, film screenings and cooking demos.
Highlights of Kembali20:
Crazy Rich Asian author, Kevin Kwan will update viewers on his latest comedy: Sex and Vanity;
Talking Heads frontman, author, and filmmaker David Byrne will reflect on more than 40 years of genre-obliterating music, books, and videos, his new film with Spike Lee, and how isolation has impacted his creativity.
2020 Booker Prize shortlister Avni Doshi will talk about her debut nomination, Burnt Sugar;
Eka Kurniawan, one of Indonesia's most internationally recognised authors whose Booker Prize-nominated 2016 novel Beauty is a Wound has been translated into 34 languages will provide insights to his Indonesia;
James Oseland, author and editor of World Food, will invite you into his travels in search of the world's best restaurants, street food stalls and home cooks.
The theme, Kembali—the Indonesian word for 'return', or 'come back'—represents revitalisation in the face of global challenges. The Festival will unite people in Bali and across Indonesia, with an international audience, at a time when travel is largely impossible and creating connections is more important than ever before.
KEMBALI20 is presented by Yayasan Mudra Swari Saraswati and supported by Wonderful Indonesia.
Main Program sessions are accessible through a minimum, one-time donation of IDR150,000, (AUD 14.50) providing access to all 60+ events.
View the program, sign up to the newsletter or follow the socials here
Ends
Follow WebBandStand for everything that is cool that matters.