La Table French Brasserie – La Reprise Dinner Menu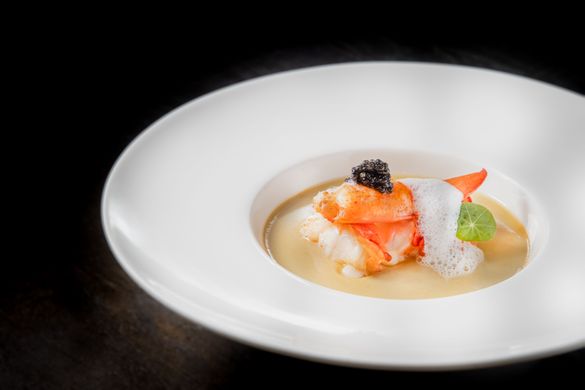 The newly refurbished La Table French Brasserie at New World Millennium Hong Kong Hotel, the only hotel French casual dining restaurant in Tsim Sha Tsui East, has reopened its doors with an enhanced, welcoming ambience and spacious setting.  To celebrate, a special five-course set dinner menu called "La Reprise," meaning "the return," is offered for discerning diners to embark on a new French gastronomic journey, available until 31 October 2020.
Chef of La Table French Brasserie Joe Wat meticulously curated the "La Reprise" menu to showcase the restaurant's popular specialties infused with new flavours. To start off the meal, diners sample 36-month Bellota Iberian Ham with Heirloom Tomato, Melon and Micro Herbs Salad, followed by Boston Lobster served with Bouillabaisse Custard, Caviar and Coconut Foam. The French staple Bouillabaisse in this dish is stewed for two hours, adding richness to the custard base, perfectly complemented by the coconut milk, premium caviar and succulent lobster.
The third course, Duck Foie Gras with Figs, Puff Pastry and Balsamic Reduction, is a delight for foie gras aficionados with crispy layers of puff pastry filled with creamy foie gras mousse and morsels of fresh foie gras.  For the main course, Australian M5 Wagyu Beef Rib Eye is grilled over cherry wood in a charcoal oven and specially paired with nutrient-rich kohlrabi, baby beets and homemade spicy jus. The meal is finished on a sweet note with Raspberry Panna Cotta with Pistachio Mousse and Yuzu Sherbet.
The five-course "La Reprise" dinner menu is priced at HKD898 per person. Guests can opt for a wine-pairing option at additional HKD458 per person.
In addition to the set dinner, the à la carte menu is also not-to-be missed with signature dishes including Onion Soup Gratinée, Tomahawk, Steak au Poivre, Sea Salt-Crusted Sea Snapper, and Apple Tarte Tartin with Caramel Ice Cream.
Enhancing the dining experience, La Table French Brasserie features a wine cellar of 500 bottles of fine vintages and best-value wines and a private dining room seating 10 guests ideal for special occasions.
La Table French Brassiere is open from Monday to Saturday (excluding public holidays.). All prices are subject to a 10 percent service charge.  For reservations, please call +852 2313 4222 or book online via newworldmillenniumhotel.com.
About New World Millennium Hong Kong Hotel
Located on Mody Road in Tsim Sha Tsui East, New World Millennium Hong Kong Hotel features 464 well-appointed guestrooms and suites. Dining options include Chinese restaurant Tao Li, Japanese restaurants Sagano and Ranzan, all-day dining at Café East, French cuisine at La Table French Brasserie, and libations and snacks at Residence Lounge & Bar and The Lounge.  Meeting space includes a grand ballroom and nine meeting rooms.  Recreational facilities include a fitness centre and a rooftop pool.  Exclusive privileges are offered on the Residence Lounge & Bar executive floors and Living Room. For more information, please contact your travel professional, the hotel directly at telephone +852 2739 1111, email reservations@newworldmillenniumhotel.com, or visit newworldmillenniumhotel.com.
Follow the hotel on
Facebook: www.facebook.com/nwmhk
Instagram: newworldmillenniumhkhotel
WeChat: NewWorldHotels     mona.kwan@newworldmillenniumhotel.com
Follow WebBandStand for everything that is cool that matters.