Party With Pride In Philadelphia During Four LGBTQ+ Events In 2020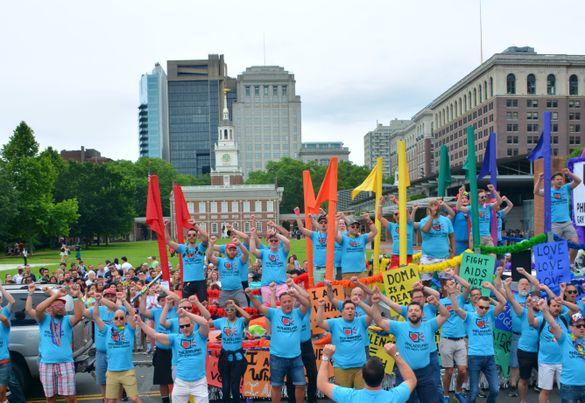 ---
Philadelphia, known as 'The City of Brotherly Love and Sisterly Affection', will proudly host a calendar of four LGBTQ+ events throughout this year.
The East Coast city of Philadelphia is one of America's most LGBTQ-friendly cities and in 1965, four years before the Stonewall Riots in New York ignited the worldwide modern gay rights movement, a group of protesters marched in front of Philadelphia's Independence Hall to hold America's first major LGBTQ rights demonstration. Today, the city proudly welcomes travellers to explore Philadelphia's thriving LGBTQ+ community and take part in many highly visible and annual events, including qFLIX Philadelphia film festival in March, Black Pride celebrations in April, the PrideDay Parade and Festival in June and OutFest in October.
LGBTQ+ events taking place in Philadelphia this year include:
qFLIX Philadelphia: The LGBTQ+ Film Festival from 22nd – 29th March 2020
From 22nd – 29th March 2020, the Suzanne Roberts Theatre on the Avenue of the Arts in the heart of Philadelphia will welcome the largest LGBTQ+ arts and cultural event in the region when the 26th qFLIX film festival returns. With over 130 films, numerous filmmakers, plenty of awards, and an abundance of events throughout Center City and Philadelphia's aptly-named Gayborhood, qFLIX shares the voices, stories, struggles and victories of LGBTQ+ people through independent films. For more information, visit www.qflixphilly.com.
Philadelphia Black Pride Celebrations from 23rd – 26th April 2020
The city will host the 21st annual Philadelphia Black Pride celebrations from 23rd – 26th April 2020. Philadelphia Black Pride was the birth child of the COLOURS Organization, the only LGBTQ health service organisation in Philadelphia primarily serviced by and for people of colour. The organisation aims to transform the lives of LGBTQ+ people of colour and create opportunities that educate, inspire and improve. The Black Pride celebrations will this year take place at the Cambria Hotel Philadelphia Downtown Center City, which is just around the corner from the Gayborhood in Center City's hip Washington Square District, where rainbow-clad crosswalks and street signs have adorned the streets since 2007. For more information, visit www.phillyblackpride.org.
PrideDay LGBT Parade and Festival from 12th – 14th June 2020
Philadelphia's 32nd annual Pride Parade and Festival is the largest celebration of LGBTQ+ pride in the region and will take place from 12th – 14th June 2020. Attracting over 25,000 people each year, the weekend's festivities will begin with a Pride Kick-Off Block Party on Friday 12th June. On Sunday 14th, the Parade will begin in the heart of the Gaybourhood at 13th and Locust Street and proceed along a 1.5-mile route through Center City and Philadelphia's historic district, before reaching the Festival's location at Penn's Landing. Numerous vendors will be located at the festival, with plenty of food and drink offerings available. Wristbands are required for attending the Pride Kick-Off Block Party and Festival and are priced at £8 ($10). For more information, visit www.phillygaypride.org.
OutFest on 11th October 2020
Held on National Coming Out Day on 11th October 2020, OutFest will celebrate the city's LGBTQ history and community with a free street party stretching across approximately 10 square blocks of the Gayborhood. The vibrant festival will consist of energetic drag shows, games, music and bar crawls, and include over 100 vendors plus a food court at the intersection of 12th and Spruce Streets. The festival's main stage will host live entertainment throughout the day, including high heel races and DJ sets. For more information, visit www.phillygaypride.org.
For more information on Philadelphia, visit the Philadelphia Convention & Visitors Bureau's website,
www.discoverPHL.com
About Philadelphia Convention & Visitors Bureau
Philadelphia Convention & Visitors Bureau (PHLCVB), www.discoverPHL.com, a private non-profit membership corporation, is the official Tourism Promotion Agency for the City of Philadelphia globally, and the primary sales and marketing agency for the expanded Pennsylvania Convention Centre. The PHLCVB competes with its counterparts worldwide for convention and tourism business. The organization has divisions dedicated to the multicultural, sports, and life sciences markets.

Follow WebBandStand for everything that is cool that matters.