Poetry in Motion for Shakespeare Day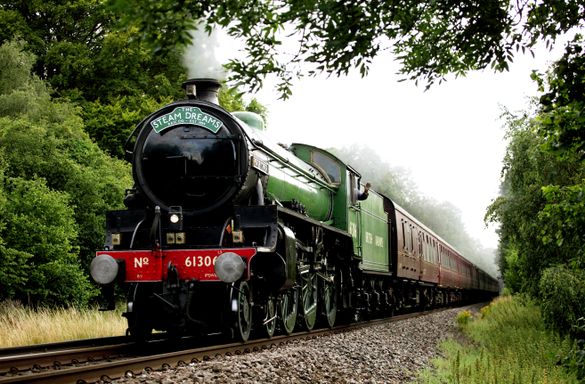 ---
Celebrate the birthdates of England's patron Saint George and the Bard himself on Thursday, 23rd April with a patriotic steam journey to enjoy 'this sceptr'd isle' * from London Paddington and picking up at Slough, Reading, Oxford and Warwick to historic Stratford-Upon-Avon.
To celebrate Shakespeare's birthdate the town is alive with vibrant pageantry and street performances; key venues offer special events for all the family and the museum guest book is reopened just for Shakespeare Day. Visitors have the chance to sign their name, as Charles Dickens and John Keats have done before.
Travelling in vintage carriages with the option of delicious at seat dining or an on board selection of snacks and drinks, all departures offer a range of ticket prices from Premium Standard to luxurious Pullman Style Dining as well as special prices for groups of family and friends. Fares start from £109pp for Premium Standard, £209pp for Premier Dining and £269pp for Pullman Style Dining. To book, go to www.steamdreams.co.uk.
Timings:
London Paddington, depart 09.45 return 21.50
Stratford-Upon-Avon, depart 14.15, return 18.05
Calling at: Slough, Reading, Oxford, Warwick
* "This royal throne of kings, this sceptr'd isle…, This earth of majesty, this seat of Mars … This blessed plot, this earth, this realm, this England", Act 2, Scene, 1 King Richard II, William Shakespeare.
61306 Mayflower
Built for the London & North Eastern Railway in 1948, 61306 Mayflower is one of two surviving B1 Class locomotives. Designed as mixed traffic locomotives capable of hauling express passenger trains as well as freight traffic, the B1s are powerful, go anywhere engines and worked across most of the UK rail network from East Anglia to Scotland.
Mayflower was built by the North British Locomotive Company in Glasgow but was delivered post-nationalisation and acquired the number 61306 by British Railways. She was first allocated to Hull Botanic Gardens Depot followed by a spell at Hull Dairycotes Depot before being finally transferred to Low Moor Depot, Bradford. She was the last B1 in service, her final trip was hauling the 'Yorkshire Pullman' from Leeds in September 1967.
Mayflower was immediately purchased for preservation and was initially based at Steamtown in Carnforth. She was fully restored for mainline operation and worked a number of railtours in the 1970's. Acquired by Steam Dreams owner David Buck in 2014, she returned to the mainline in 2015 before being withdrawn for an extensive overhaul. Resplendent in the early British Railways apple green livery as she was originally given when delivered in 1948 she returned to full mainline operation in early 2019.
Mayflower has two cylinders, 6 driving wheels, a firebox grate area of 30 square feet and can operate at 75mph.
Carbon Offset
The Steam Dreams Rail Co., was the first rail charter to be carbon neutral. For the last ten years the company has offset annually the carbon footprint of all aspects of its operation.
About The Steam Dreams Rail Co. 
The first trip left London for Salisbury in 1999 and was an immediate success
Almost two decades later, the company is proud to be offering day trips to more than 35 different destinations and picking up passengers at over 100 stations across the UK every year
As well as day trips, Steam Dreams offers a number of multi-day tours around the British Isles and Continental Europe. In autumn 2021, the company will be including a tour of New Zealand in their programme.
The company has received a TripAdvisor® Certificate of Excellence every year since 2015, and was short-listed for Best Rail Holiday Provider in the inaugural Silver Travel Awards.

Follow WebBandStand for everything that is cool that matters.