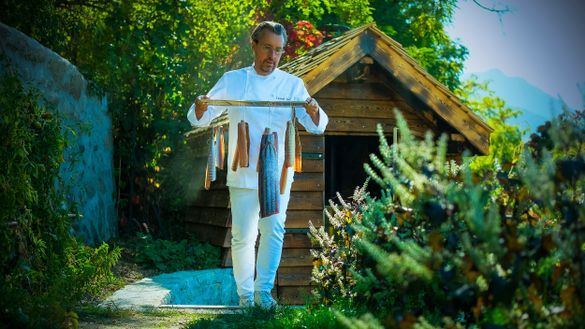 ---
Savoie Mont Blanc's fishes and crustaceans
Savoie Mont Blanc has four great lakes: Lake Geneva (French side), Lake Annecy, Lake Bourget and Lake Aiguebelette. Surrounded by mountains, the four lakes are beautiful. With an average temperature of 24°C in the summer, they are ideal for swimming. Many watersports activities, as well as cruises are organised. They all have beautiful hotels nearby as well as excellent restaurants. Most of them have fishes and crustaceans from the lake – and local rivers – on their menus: féra, lavaret, arctic char, perch, trout, pike, monkfish and crayfish. Savoie Mont Blanc has around sixty professional fishermen, all respecting responsible fishing, from whom the local chefs buy fishes.
Jean Sulpice, who has two Michelin stars for his restaurant L'Auberge du Pere Bise by Lake Annecy loves cooking féra and char. 'They have a subtle and elegant flesh, but very fragile, "says the chef who grew up on the shore of Lac du Bourget." Be careful not to overcook it ", he warns," otherwise their flesh dries out and gives a really unpleasant texture on the palate, and without flavour ". Jean Sulpice also likes smoked fish. Even richer in nutrients than fresh, smoked féra can be used to make succulent canapes or starter.
Laurent Petit, has 3 Michelin stars for his restaurant Le Clos des Sens, also in Annecy. Le Clos des Sens serves fish and vegetarian dishes only.
Laurent Petit also has two excellent brasseries in Annecy: Brasserie Brunet (www.brasseriebrunet.com/) and (www.cafebrunet.com/)
There are many good restaurants in Savoie Mont Blanc to eat fish from the lakes:  Restaurant du Port by Lake  Bourget, Hotel restaurant Les Tilleuls in St Jorioz by Lake Annecy, Les Jardins du Léman in the pretty village of Yvoire by Lake Geneva, La Villa du Lac by Lake Aiguebellette…to name a few.
Chefs' gardens and permaculture
Vegetable gardens
An increasing number of chefs are interested in sustainable cooking and have their own vegetable and plant gardens. By becoming gardeners as well as chefs, they are developing a new way of eating and thinking about food. They actively promote a healthy and eco-friendly, but tasty, cuisine.
The Hotel Royal in Evian has a 'Potager Royal' – a vegetable garden covering 3,000m2 – in the heart of the hotel's sumptuous park. Chef Patrice Vander, who has one Michelin star for the restaurant Les Fresques at the Hotel Royal, cooks with produce from this garden.  www.hotel-royal-evian.com
Damien Laveau, who has two stars for the Hameau Albert 1er in Chamonix-Mont-Blanc uses herbs and spices from his garden. https://www.hameaualbert.fr/en
Emmanuel Renaut, who has 3 Michelin stars for Le Flocon de Sel in Megève, cooks with wild herbs and herbs from his garden: tarragon, chervil, caraway, parsley, oregano, thyme, mint, fennel, oxalis…and many more.
In 2020, Emmanuel Renaut is taking over the Auberge du Bois Prin in Chamonix-Mont Blanc. His menu will include many dishes made with fruits, vegetables and herbs, all of which will also come from the restaurant's garden.
Laurent Petit, who has 3 Michelin stars for Le Clos des Sens, grows 200 types of vegetables, herbs and spices – without any fertilisers or pesticides – in his 1,500m2 garden in Annecy-le-Vieux.  www.closdessens.com/en/
Chez Pépé Nicolas in Les Menuires has a small garden with vegetables and mountain herbs. L'Aigle Blanc in Valmorel uses spices and red fruits from its garden.
Le Chateau des Allues is a beautiful grand house, located in the vineyards near Chambéry, transformed into a charming guest house. The owner Stéphane Vandeville is an excellent cook, who uses local produces and vegetables and herbs from his garden. He also prepares delicious packed lunches that can be enjoyed in the large garden – or anywhere else! https://chateaudesallues.com/
For the first time, the Michelin guide 2020 has awarded green stars to chefs who take extra steps to be sustainable and environmentally friendly.Laurent Petit, Yoann Conte and Jean Sulpice in Annecy, Clément Bouvier in Tignes and Frédéric Molina in Vailly have each received a green star. They all grow their own vegetables and herbs.
Learn about permaculture: Permaculture is a way of growing organic vegetables, fruits and plants while completely respecting the natural ecosystem.  Un Jardin au Paradis, in the Alpes du Léman, as well as the majestic Chateau de Menthon-Saint-Bernard, above Lake Annecy, offer workshops to learn about permaculture.  www.chateau-de-menthon.com
Savoyard Specialties
Everybody knows about raclette, tartiflette and cheese fondue…but there are many other Savoyard dishes which are less famous and can be found in more traditional places.
Farcement is made with potatoes, onions, prunes and raisins, and is cooked in a special round farcement dish, lined with bacon.
Matafan is a delicious potato pancake.
Farci de Bessans, is a typical dish from Bessans in the Haute Maurienne. It is made with pork, cabbage, leek and polenta. All the ingredients are mixed together, eggs and flour are added to make some kind of patties.
Diots are sausages from Savoie cooked in white wine. Pormoniers are another type of Savoie sausage made with pork and green vegetables such as spinach and leek. Both can be served with Crozets, small square pastas made in Savoie.
A Bescoin is a kind of small brioche with anise and saffron that the princes of Savoie used to love. Every year on 15 August, Le Grand Bornand celebrates this forgotten treat. A Bescoin is blessed at the village's church and then given by godparents to their godchildren. Two bakers in the Grand Bornand still make Bescoins all year round.
Rissoles, or 'r'zule' as they are known in the local dialect, are a traditional Savoie Mont Blanc desert. It's a pastry filled with fruits, compote or jam. They can be fried or baked and eaten hot or cold.
The Gateau de Savoie is a sponge cake made with eggs, sugar, flour, cornflour and lemon.
The chocolate truffle was invented in Chambéry 125 years ago! Try some truffles and other delicious chocolates at Fidèle Berger, where they are made by Cédric Pernet and at La Confiserie Mazet, where they are made by chocolatier Stéphanne Bozonnet. Confiserie Mazet celebrates its 200th anniversary this year and is in France's top 100 chocolatiers.
Local drinks: Savoie wines, beers and vermouth
Savoie beers
There are over 30 micro-breweries in Savoie Mont Blanc.
Around Chambéry, there are six micro-breweries. Archi Malt is open for visits and has a small restaurant. Brasserie du Mont Blanc, which is the second beer producer in France, organises visits as well and has a restaurant: www.brasserie-montblanc.com/en/
BAS (Brasserie Artisanale de Savoie) has been making five types of beer since 2005: a blonde, an amber, a wheat, a dark and a special one for Christmas with spices. Brasserie Baujue produces organic beer and has an eco-friendly approach – Brasserie Vertic'ale is also eco-friendly.
La Montagnarde makes different types of beer, including a flavoured one. Try the Brett Framboise, which is made with raspberries from the brewer's garden.
ArtMalté is Annecy's oldest micro-brewery. It has a bar selling its own beers, but also other local beers. Les Brasseurs Savoyards is the biggest micro-brewery in Annecy. They make blond, wheat and amber beer, as well as flavoured beers with local products such as Génépy and blueberry. Annecy has three other micro-breweries: Bombardos, Démarrante and Pirate.
In the Coeur de Savoie area, there are three micro-breweries making organic beers: Les Funambules, La Roteuse de l'Arclusaz and the Microbrasserie Quardin.
Brasserie Veyrat in the Albanais makes beer but also lemonade. Guided tours in English can be organised. In the autumn, Brasserie Veyrat makes a special pumpkin beer.
Brasserie Vanoise in Haute Maurienne makes organic beers with Safran. There is a blond, a wheat and an amber.
There are two other breweries in the Maurienne Valley: Brasserie d'Oé in Aussois and Brasserie du Galibier, France's highest micro-brewery, which is located at the foot of the famous Galibier pass.
La Mousse du Guiers is by Lake Aiguebelette. The Brasserie du Léman by Lake Geneva makes organic beer only.
Wine
The vineyards of Savoie Mont Blanc cover some 2,000 hectares and produce an appealing and diverse range of wines that are both alpine and sophisticated in character. The vineyards are located near four large lakes and two regional parks – Bauges and Chartreuses – and very close to major tourist destinations such as Chambéry, Aix-les-Bains, Evian and Annecy. They are divided into three areas: Combe de Savoie, Chautagne and Jongieux, and Leman and Arves.
The French vineyard has around 250 different grape varieties. The Savoy wines are made from 23 grape varieties, which is exceptional, given the small size of the vineyards. This diversity results from the variety of soils and from the climatic conditions which have long forced wine growers to experiment. Among these grape varieties 7 are unique (Altesse, Gringet, Molette, Mondeuse noire, Mondeuse blanche, Persan and Jacquère). Red, white, rosé and sparkling wines are made in Savoie Mont Blanc.
La Route des Vins de Savoie : there are 3 itineraries to discover Savoie vineyards and taste Savoie wines.
Coeur de Savoie: close to the beautiful city of Chambéry, this route can be done by bike.
Savoie, Lac du Bourget: this tour of the vineyards surrounding Lake Bourget includes a cruise on the lake.
Lake Geneva and the Arve is an area close to Lake Geneva and the beautiful city Evian famous for its water. The Château de Ripaille is the ideal place to discover the local history and it has an excellent wine.
Vermouth
The Dolin distillery in Chambéry has been producing Vermouth since 1821. Dolin makes a dry, a rouge (or sweet) and a blanc vermouth. In the 19th century, wealthy British people used to go to the spas in nearby Aix-les-Bains and drink an aperitif made from the local dry vermouth infused with local strawberries. This is how the Chamberyzette was born, and it is still made in small quantities by Dolin.
Dolin also produces Génépy, which is a digestif made with local mountain plants, as well as some fruit liquors. http://www.dolin.fr/gb
Follow WebBandStand for everything that is cool that matters.