Timber Festival 2020 line-up in the National Forest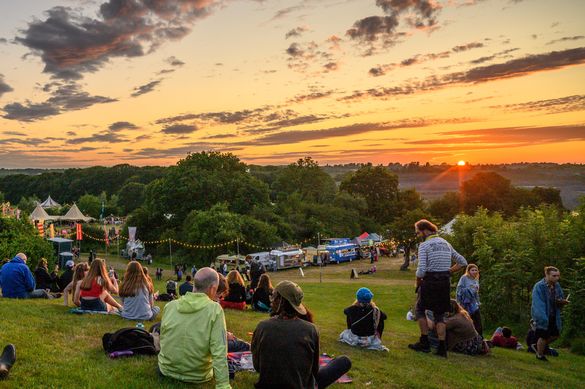 ---
\3 – 5 July at Feanedock in the National Forest near Ashby de la Zouch
Including: Field Music, Green Party MP Caroline Lucas, Gruff Rhys of Super Furry Animals, Hackney Colliery Band and more!
Timber Festival in the National Forest has announced the second wave of programming for 2020, from world-class live music to environmental talks, outdoor arts, poetry and spoken word, author readings, nature workshops, wellbeing sessions and much, much more! The full programme will be announced later in the year. The news comes a month after Timber launched the first wave of programming, which included The Unthanks, folk singer Sam Lee, Poet Laureate Simon Armitage, Dame Evelyn Glennie, Gary Stewart's Graceland, and a Treetop Tightrope Spectacular.
Created by the National Forest Company and award-winning festival producers Wild Rumpus, Timber takes place in the National Forest at Feanedock, on the Leicestershire/Derbyshire border, from 3 – 5 July 2020. A celebration of trees and forests, Timber encourages audiences to re-examine their relationship with the natural world through carefully curated musical performances, installations, debates and workshops. Local audiences who live within the National Forest benefit from 25% discount on all ticket prices.
Exploring the climate crisis
As an expression of the ambition of the National Forest, Timber is all about encouraging people to live more sustainably and in harmony with nature. In 2020, much of the programme will explore the impacts that we have on the world and how we can begin to tackle the climate crisis here.
Green Party MP and former Party leader Caroline Lucas will give a keynote speech in the Field Notes tent. She has served the constituency of Brighton Pavilion as the Party's first MP since 2010 and has chaired many parliamentary groups on climate change. She is a passionate campaigner – expect nothing less than a rallying call to action as we try to build hope for a positive future.
In a bid to cut back on fast fashion, Timber will host a Festival Clothes Swap. Festivalgoers can bring any unwanted pieces of clothing and trade them in for a second-hand steal, and any remaining items left after the weekend will be donated to local charities. These new programming elements join the already announced Letters to the Earth from Culture Declares Emergency, a book compiled of letters about the climate crisis from the British public, and a three-course Binner Party from Perfectly Edible UK, made entirely from food which would otherwise have been sent to landfill.
There are also many eco initiatives in place for Timber 2020, including the return of the Big Timber Bike Ride with Red Fox Cycling, a local festival bus service with Midland Classic, travel mile balancing with Energy Revolution, compost toilets, a ban on the sale of single-use plastics, and a food carbon calculator so audiences can make informed choices about the food they purchase on site.
Enthralling live music
A raft of musical excellence from across the genres, from pop-funk to rock, big band and folk, is coming to Timber.
Five-piece indie rock outfit Field Music join the music line-up. Hailing from Sunderland, the band's music draws on influences as wide-ranging as Stravinksy, Fleetwood Mac and Kate Bush. They come to Timber fresh from releasing their new album, Making A New World. Welsh musician and songwriter Gruff Rhys will take to the Field Notes stage for a solo set. As well as fronting Super Furry Animals since the 1990s, Gruff is a member of electro-pop band Neon Neon and pens and performs his own work. His latest solo album Pang! was developed in just over 18 months and is sung almost entirely in Welsh, produced and mixed by the South African electronic artist Muzi.
Hackney Colliery Band bring their genre-bending combination of brass, reeds, percussion and electronics. Since the release of their eponymous debut album in 2011, they have firmly established themselves as one of the most exciting live bands around with their versions of songs such as Blackstreet's No Diggity, Toto's Africa and Kanye West's All of the Lights.
Local singers The Coal Tits return to The Eyrie stage after their memorable performance at Timber 2019, to share songs which celebrate the past, present and future of the National Forest. Audiences can also join them to compose a song about Feanedock, the trees that grow here, and the fascinating history of the woodland. This fun session will be suitable for all ages, with an opportunity to join The Coal Tits to perform the completed song. Audiences are invited to sit by the glowing embers of the Timber campfire for bonfire bands – surprise fire-side sets from some of our headline music acts.
High-flying outdoor performances, theatre and dance
Coventry-based Ascension Dance present The Other Side, a thrilling outdoor performance combining parkour and contemporary dance with engineering and bridge building. The show is based around a self-supporting wooden bridge created by Imagineer Productions from a design by Leonardo da Vinci, and explores themes of human connectivity. Ascension Dance will run bridge building workshops after each performance. And Temporary Commons bring the surreal performance-installation Temple of the Tattie, which imagines a post a-crop-alyptic near future where a Guardian protects the last agricultural relic, the humble Tattie. Festivalgoers are invited to witness the spirited Abbots Bromley Horn Dance, a local folk-dance dating back to the Middle Ages. Many believe it celebrated the hunting rights of people at Needwood, the ancient forest at the western edge of the National Forest. Performed each September in the Staffordshire village of Abbots Bromley, the dance is rarely seen outside the parish boundary. Now you can witness this historic tradition by following the steps of the Deer-Men, Hobby Horse, Maid Marian and The Fool, and if you're lucky, join them for a dance. If you've caught the folk-dance bug, try your hand at Maypole dancing as we take our ribbons to create some beautiful patterns.
These performances join the Treetop Tightrope Spectacular, a jaw-dropping tightrope walk between the trees performed by funambulist Chris Bullzini, The Band at the End of the World by Ramshacklicious, and The Dream Engine's ethereal Heliosphere in which an acrobat suspends between a giant floating balloon, which were announced at the end of last year.
Delve into a world of poetry, literature and spoken word
Spoken word and literature are always key parts of the Timber Festival programme, and this year is no different. Award-winning poet Paul Farley reads from his new collection The Mizzy. Shortlisted for the Costa Poetry Award and the T. S. Eliot Prize, this avian-themed collection's title comes from the affectionate nickname for the mistle thrush. And London journalist Jini Reddy delves into the magical landscapes of Britain in her latest book Wanderland. She'll share readings from the book, in which all things are possible and the Other, both wild and human, comes in from the cold.
Audiences are invited into the dappled light of the Woodland Library to pick up a book and spend an hour or two in a hammock suspended beneath the trees. This year, readers will find a special collection of books from the Walking Library, an art project by artists Dee Heddon and Misha Myers, in which people with a connection to the National Forest have recommended books they would take with them on a Forest walk. Dee will be leading walks to explore the collection further and share texts along the way.
Slow down in Shivelight
Shivelight is Timber's home to all things wellbeing, from yoga sessions to mindfulness and meditation. Joining the wellbeing offering this year is the Timber gong bath, a highly powerful and immersive experience using tonal instruments to promote self-inquiry and reflection. All you have to do is lie down, eyes closed and let the waves of sound wash over you, taking your mind wherever it needs to go…
Get back to nature with forestry and wildlife workshops
Timber is all about reconnecting with nature. Explore The Canopy, the oldest part of the festival site, and discover how the National Forest is Creating Working Woodlands. Learn which tree species have been planted, see how woodland enterprises are developing sustainable products from the Forest, weave your own festival crown from willow, and find out about approaches to cultivating a sustainable woodland. Then sit awhile around the charcoal burner to explore a variety of woodland topics in Charcoal Sessions, a gathering of like-minded people, all ideas welcome.
Try your hand at green woodworking with Peter Wood from Greenwood Days and Ian Varley from Rustic Carpentry. Pole lathes and shaving horses will be set up for you to drop by and have a short try or make something to take away. Learn about the wildlife of Feanedock as well as the trees. Meet the birds of Feanedock on a guided walk with the Leicestershire and Rutland Ornithological Society – you might see a Great Spotted Woodpecker, Blackcap or Chiffchaff. Take a wander with the Heart of the Forest Wildlife Recorders Group to explore the complex web of wildlife above and below ground. And meet one of the National Forest's 100 bee colonies with David McDowell The Bee Farmer in the return of his special Bee TV installation.
Gather round the glow of the campfire The Timber campfire is one of the most magical parts of the festival, made all the better by the incredible storyteller Ian Douglas. Joined by some curious friends, stories will be woven through the wood smoke all weekend. You might even catch a glimpse of our Bewondered Beasts wandering round the fire, enchanted and illuminated animal puppets which radiate with warm light as the sun sets over Feanedock. Take a step back from the bonfire and visit the nearby Hammer & Chisel, our unique woodland playground where the wild rules. Under the supervision of our forest play experts, create your own world or add to ours using pallets, ladders and ropes, help us put together a myriad of walkways, dens and secret spaces. Pick up your tool of choice and get ready to build timberland.
Arboreal films and woodland DJs
Kendal Mountain Festival on tour presents A Night of Adventure, an evening of short films about human endurance and breath-taking environments. Hear from a special guest who takes to the stage to share tales from their explorations, and from the Kendal Mountain Festival team who will share why the films have been chosen.
As the sun starts to set, take a pause in the Woodland Cinema to watch a series of films carefully selected by the Timber team. Then slip beneath the trees for our night-time Woodland DJs on the Eyrie Stage. You'll find some surprises here, including Poet Laureate Simon Armitage who will be swapping his pen for the turntables. – –
New and returning areas for Timber 2020
Shivelight, Timber's area for wellness, will move to the crest of the hill overlooking the festival. Shivelight is where festivalgoers will find classes such as yoga and tai chi, mindfulness workshops and other activities led by expert instructors, now with panoramic views over the forest. As well as taking part in a wealth of workshops, festival goers will be able to relax in a wood-fired hot tub at Shivelight and watch the sun go down behind the trees.
Two of the festival's most popular areas, The Common and Halcyon Days, will swap locations. The Common is Timber's area for all things food, with some of the best festival food vendors around, as well as bars, cooking workshops and demos. Halcyon Days is the area for circus skills and woodland games, so come dance! Come play! Compete!
The largest of the Timber areas, Field Notes is home to music, stories, lessons and lectures from the heart of the forest. Expect headline bands and musicians, as well as the very best in talks, storytelling and cutting-edge ideas. The woods are speaking, will you listen?
The Eyrie Stage, set in a secluded forest glade, is dedicated to spoken word and chilled live music by day, and comes alive for the night owls with woodland DJs and electronica.
Get in touch with the fundamentals and explore big ideas at Elemental, home to all things earth, air, fire and water. Expect authors, poets and acoustic sets, as well as night-time films in the woodland cinema.
As the Crow Flies is all about the wild of the woods, so come and celebrate your animal self in the glade. Here you can find the beloved Timber campfire, with storytelling through the day and live bands as the night draws in.
Harness and hone your woodcraft skills in The Canopy, Timber's area for cultivating woodland enterprise ideas with woodcraft skills and workshops.
Tickets for Timber 2020 are available now at timberfestival.org.uk
People who live within the 200 square miles of the National Forest benefit from 25% discount on all tickets.
– – –Quotes
 John Everitt, Chief Executive of the National Forest, said:
"Set within one of the most beautiful woodlands in the National Forest, Timber celebrates the Forest and all that it represents. This inspirational weekend is a chance for people to immerse themselves in nature through a world-class programme of arts, music, ideas and installations. At a time when we all want positive solutions to help combat climate change, Timber offers some time out to imagine and enjoy a greener future – a life-affirming experience in the heart of the National Forest."
 Rowan Cannon and Sarah Bird, directors of Timber Festival, said:
"Timber returns to the National Forest this year for the third time and is shaping up to be the best yet! The music programme that we've announced so far is incredible – Field Music, Gruff Rhys, The Unthanks, Sam Lee, Snapped Ankles, Hackney Colliery Band… the list goes on! We also can't wait to see Poet Laureate Simon Armitage as a woodland DJ, world-class percussionist Dame Evelyn Glennie as a guest in Wilderness Tracks, and the insanely talented Chris Bullzini performing a tight-rope walk across the tree tops. Roll on summer 2020!"
Timber Festival is an immersive and revitalising weekend festival in the National Forest celebrating our relationship with trees and woods through carefully curated musical performances, installations, debates and workshops. Timber will take place for the third time in the National Forest from Friday 3 – Sunday 5 July 2020.
Music, art, and ideas weave together during this three-day festival tucked away at Feanedock, a 70acre woodland site near Ashby de le Zouch in the heart of the National Forest.  Spanning 200 square miles of the Midlands, the National Forest is the first forest to be created at scale in England for over 1000 years. For three days in July, new thinkers, activists, makers, artists, musicians and writers gather to play, provoke and inspire as we explore our complex relationship with nature. A joyous, reflective festival, Timber gives you the chance to recharge and reconnect with your family, friends, nature and, most importantly, yourself.
Wild Rumpus exist in a space where arts and culture meet the natural environment. Working from the Whirligig, four acres of woodland in Cheshire, they create experiences which inspire curiosity and design events that immerse audiences in incredible stories and moments of wonder.
This year's programme includes Hinterlands Film Festival (Skipton, 14 – 17 May), Timber Festival (The National Forest, 3 – 5 July), and Just So Festival (Cheshire, 21 – 23 August).
Alongside producing large-scale events, Wild Rumpus run an extensive volunteer and talent development programme working with performers, producers and programmers to shape a cultural environment where excellent outdoor work thrives.
The National Forest is the UK's boldest environmentally-led regeneration project, spanning 200 square miles across parts of Derbyshire, Leicestershire and Staffordshire. Working with communities, businesses and land owners, it is an exemplar of imaginative and ambitious sustainable development.
Through the planting of trees, the National Forest transforms lives, the landscape and the economy, bringing all the benefits of trees and woodland near to where people live and work.
Since the early 1990s, nearly nine million trees have been planted, increasing forest cover from 6% to 21%, more than double the national average. In the heart of the Forest, where Feanedock is situated, forest cover has now reached 27%.
However, the story of the National Forest goes beyond the trees. This transformation inspires people and businesses to reconnect with nature and create a place to grow together. We are creating a distinctive sense of place, a forest culture for the 21st century.
Find out more about the National Forest at nationalforest.org.

Follow WebBandStand for everything that is cool that matters.